GTA: The Criminal Enterprises - The Loop
Play Sound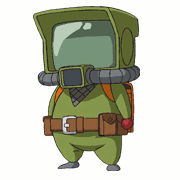 Monitamons are ninja Digimon with monitors for heads that are used to spy on the other armies and for communication between Nene Amano's team and the rest of Fusion Fighters.
They are voiced by Colleen O'Shaughnessey.
Appearance
Monitamon are short ninjas with CRT monitors for heads. They display their emotions as images on the screen. Six Monitamon are members of the Fusion Fighters: Three green elites that travel with Nene and three red "dropouts" that travel with Mikey.
Digimon Fusion
They were originally from the Warrior Zone, helping Nene as her spies. Despite their bumbling and comedic behavior, they are considered elites among Monitamon.
Three red Monitamon encountered the Fusion Fighters in the Warrior Zone, joining Mikey to serve as a link to Nene's Monitamon. The three red Monitamon can DigiFuse to form Hi-Vision Monitamon, a black-colored version with stronger attacks and a miniature transmission tower on its head. Despite being carried in Mikey's Fusion Loader, the three red Monitamons are always DigiFused by Nene. In the final battle against DarknessBagramon, the green Monitamon were DigiFused to form a second and additional Hi-Vision Monitamon.
Gallery
Trivia
External links