Morgan, Lulu, and Amy
are friends/naighbors of
B1 and B2
and one of the main characters in Bananas in Pyjamas.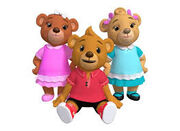 Appearances
In the orginal series, Morgan appeared as an orange bear with black eyes, a black mouth and a black nose. He wears a green and blue shirt with an M in the middle of the shirt. His sleeves also has M's. 
Lulu is a dark brown bear that wears a pink dress with a green skirt and green diamonds.
Amy is a beige bear who wears a blue shirt with a flower and a blue skirt. 
In the animated series, Morgan is a now a light brown bear. He has a hairstyle, black buttons and black eyebrows. He wears a red shirt, that has a collar (just like Rat in a Hat's cyan shirt), red sneakers and black shorts. Lulu is a brown bear that has eyelashes, black eyebrows and a white bow. She also wears a pink dress and pink shoes. Amy still appears as a beige bear. Like Lulu, she has eyelashes, pink bows, white detail and black eyebrows. She has hairstyle like Morgan does. She wears a cyan dress that has a white collar, black shoes and cyan socks.
Voice Actors
Morgan
Jeremy Scrivener (1992-2001)
Troy Planet/Sophie Aldred (2011-2013)
Lulu
Taylor Owynns (1992-2001)
Iny Vas de Sousa (2011-2013)
Amy
Sandie Lillingston (1992-1995)
Mary-Ann Hensaw (1996-2001)
Isabella Dunwill (2011-2013)
Community content is available under
CC-BY-SA
unless otherwise noted.