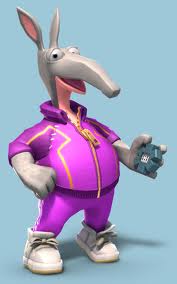 Mr. Fit is a supporting protagonist in the Banjo-Kazooie series. He's a plumed aardvark who does what his name suggest.
Banjo-Tooie
Mr. Fit made his debut in Banjo-Tooie, He helps Banjo by training him  in a corse in the sky.
Banjo-Kazooie: Nuts and Bolts
Mr. Fit last and noticable appearance is the first Banjo game on an XBOX concle. He host challanges in certain worlds in the game. If you complete one (successfully), you'll be awarded a Jiggy. Nuts and Bolts also hints that he dosn't like Klungo.
See Also
Community content is available under
CC-BY-SA
unless otherwise noted.