Raise a Floppa - The Loop
Play Sound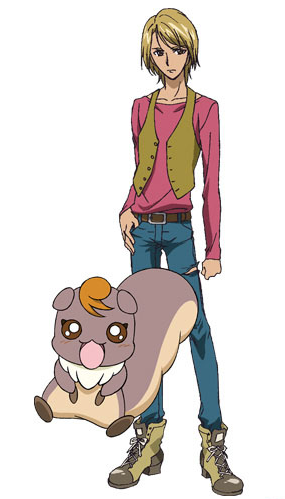 Natts is one of the heroic princes from the Palmier Kingdom, a squirrel that can transform into a human who is the clerk of a jewelry shop called Natts House. In the beginning of the series, he is sealed within the Dream Collet, and the only way to get out is if Pretty Cure used their powers. Although Natts cannot do much in the human world, he is properly able to fight using his tail in his real form, though mostly uses this when he is annoyed at Coco.
He is voiced by Miyu Irino.
Personality
Coco describes him as a good friend, comparable to the relationship between Nozomi and Rin. Natts is usually serious and distrustful, almost the completely opposite from his best friend Coco. Because of his past, he uses time to get close to people. However, he has often shown to be extremely stubborn, not wanting help from people when facing problems. Natts also believes that the truth is always the best, and thus never lies about anything if possible. This is shown when he bluntly tells Komachi that her book is bad, and also when, rather than lying, he uses his good look and tells Mika Masuko to just not go deep into the case of Pretty Cure. Because of this belief, it is hard for him to apologize or say things he does not mean, because his simple logic is different from others'. However, Coco also tells Natts that a part of his character is that he feels bad if hurting someone's feelings regardless of his beliefs.
Special Powers
As we all know, Natts can be able to transform into a human like (some of) the Mascots in Yes! Pretty Cure 5 and take the name of Mr. Natsu In Yes! Pretty Cure 5 GoGo! Natts is able to use the power of his Palmier Crown to summon the Milky Note and the Milky Mirror for Milky Rose. In a part of Yes! Pretty Cure 5 GoGo! Okashi no Kuni no Happy Birthday, he, along with Coco, jokingly uses the power of the Miracle Lights to transform into Cure Nuts who, along with Cure Coco, forms the duo Coconuts. It's unknown if he has the same powers Coco had when he was brainwashed (ex. combat moves and blasting energy spheres). It possible because Natts was wearing the clothes Coco wore when brainwashed during the ending theme.
Merchandise