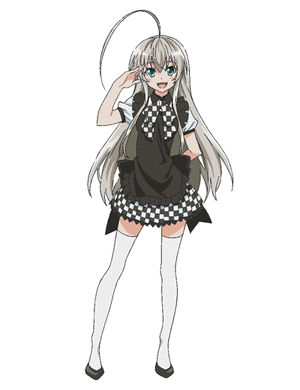 Nyaruko or Nyarlko is a Nyarlathotepan (alien from Nyarlathotep) who is sent by the Space Defence Agency to Earth to protect Mahiro Yasaka and ends up falling in love with him.
Physical Appearance and Personality
Nyaruko takes a human form of a girl with long, silver-colored hair. Her default outfit is a black dress whith white, puffy sleeves and a black-and-white checkerboard pattern on her skirt. She is always friendly to Mahiro, eager to pursue him, but often shows abusive and brutal habits to any hostile aliens. She is also obsessed with otaku culture. She takes the name Nyaruko Yasaka as Mahiro's cousin when staying at Mahiro's house and attending his school. Her actual age is unknown since she and Kūko always stop Mahiro whenever he becomes curious or questions her age, although she states that she has already graduated from space college. She happens to be smart and self-confident, as she graduated from one of the best universities at the top of her class, and entered the Space Defence Agency after her exam. She is also quite wealthy, capable of spending a lot on otaku-related products. As a top agent, she mainly uses space CQC to fight (note that the definition of "space CQC" is defined by the user and is not restricted to close quarter combat weapons). She claims to be one of the best fighters on Earth, as she states that her combat level is 530,000, while a normal farmer armed with a hunting rifle is 5 (though this may be a parody of Dragonball Z). Despite this, she is always unsuccessful when dodging Mahiro's fork attacks.
Trivia
She is based on Nyarlathotep by H.P. Lovecraft who in H. P. Lovecraft's works is usually portrayed as pure evil.
Gallery
Officials
Screenshot
Merchandise
Community content is available under
CC-BY-SA
unless otherwise noted.