Opa-Opa
is the main protagonist of the
Fantasy Zone
series by Sega.
Appearance
Opa-Opa is a sentient spacecraft who has a blue visor, a red behind, green bottom, and yellow legs. In the anime Zillion, he has white dotted eyes and his legs were orange. Whenever he was serious, he would have thick eyelashes.
History
Fantasy Zone
In the year 1422 (6216 in the Master System version), the Fantasy Zone was worried over the collapse of the interplanetary monetary system. The Space Guild plans out to seek on the planet Menon, where the inhabitants of the said planet was behind the collapse. When Opa-Opa faced off their leader, he had mixed reactions when it was actually his father, O-Papa
Other Appearances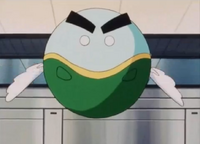 In the anime Zillion, he is a minor to secondary character. In Sonic Riders, he makes a cameo appearance as an unlockable Extreme Gear based off of him. He also makes a physical appearance in the Samba de Amigo section of the track "Sega Illusion". Opa-Opa's next appearance was in Sonic & Sega All-Stars Racing as an unlockable character. He drives as himself, and is classified as a hovercraft vehicle. In Sonic & All-Stars Racing Transformed he makes a cameo as a holographic statue in the track"Race of Ages". Finally, he makes a cameo as a Solo Unit attack for Ulala from Space Channel 5 in Project X Zone.
Community content is available under
CC-BY-SA
unless otherwise noted.