Raise a Floppa - The Loop
Play Sound



Click To Help Kirby!

This stub is making Kirby hungry with its lack of substance.
This article or section is a stub. You can help the Heroes Wiki by expanding it!

What are you waiting for? GO!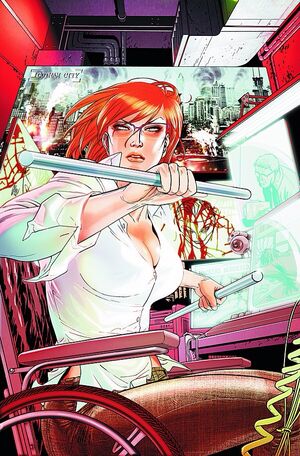 | | | |
| --- | --- | --- |
| " | Listen, unless you want some girl in a wheelchair to smack you around a bit, you're going to have to let the "It's all my fault" thing go. | " |
| | ~ Oracle | |
Oracle is the alter-ego of Barbara Gordon, formerly known as Batman sidekick Batgirl until the Joker crippled her during the Killing Joke story. Paraplegic and confined to a wheelchair, she begins using technology and computers to help other super-heroes by operating a worldwide communications network. This provides up-to-the-minute espionage and intel, as well as coordination and organization. In addition to her involvement with the Batman Family, she is also a member of the Birds of Prey, Justice League, Suicide Squad and Batman Incorporated.
After the events of Flashpoint, Barbara eventually regained the use of her legs and became Batgirl once more. However, this allowed a new Oracle named Gus Yale to take her place. Gus was a big fan of Barbara's work and became the Oracle to sell information on various crime families in Gotham City. He soon gained membership to the Birds of Prey and continued to provide them with intel during their missions until he was brutally tortured to death by Burnrate.
Barbara Gordon eventually returned to using the Oracle alias (although still operates as Batgirl) after the apparent suicide of her brother James Gordon, Jr. and assisted the Bat-Family in the final Batman issue of the Joker War arc.
Gallery
Heroes
Teams
Justice League | Justice League Dark | Justice League International | Super Buddies
Main
Aquaman | Atom | Batman | Black Canary (Dinah Drake) | Cyborg | The Flash (Barry Allen | Wally West) | Green Arrow | Green Lantern | Hawkgirl | Hawkman | Martian Manhunter | Superman | Wonder Woman
Secondary
Adam Strange | Agent Liberty | Alan Scott | Amazing Man | Ambush Bug | Amethyst | Andrew Bennett | Animal Man | Antaeus | Atomica | August General in Iron | Azrael | Aztek | Bart Allen | Batwing | Batwoman | Beast Boy | Big Barda | Black Condor | Black Lightning | Black Orchid | Blue Beetle | Blue Devil | Blue Jay | Booster Gold | Bronze Tiger | Captain Atom | Captain Cold | Catwoman | Commander Steel | Congorilla | Creeper | Crimson Fox | Damian Wayne | Deadman | Detective Chimp | Doctor Fate | Doctor Light | Doctor Mist | Donna Troy | Element Woman | Elongated Man | Emiko Queen | Equinox | Etrigan | Faith | Fire | Firehawk | Firestorm | Frankenstein | General Glory | Geo-Force | Guardian | Guy Gardner | Gypsy | Harley Quinn | Hourman | Huntress | Ice | Jackson Hyde | Jade | Jaime Reyes | James Gordon | Jericho | Jesse Quick | Jessica Cruz | John Constantine | John Stewart | Katana | Kid Flash | Killer Frost | Kyle Rayner | Lex Luthor | Lightray | Lobo | Lois Lane | Madame Xanadu | Maxima | Mera | Metamorpho | Mister Miracle | Miss Martian | Mister Terrific | Mon-El | Moon Maiden | Natasha Irons | Nightmare Nurse | Nightwing | Oracle | Orion | Pandora | Phantom Stranger | Plastic Man | Power Girl | Question | Raven | Red Arrow | Red Tornado | Rocket Red | Ryan Choi | Saturn Girl | Shade the Changing Mann | Shazam | Silver Sorceress | Simon Baz | Starfire | Stargirl | Steel | Steve Trevor | Supergirl | Swamp Thing | Tasmanian Devil | Ted Kord | Tempest | Tomorrow Woman | Triumph | Vibe | Vixen | Zatanna | Zauriel
Theatrical Movies
Justice League: Justice League (Superman | Batman | Wonder Woman | The Flash | Cyborg | Aquaman) | Alfred Pennyworth | James Gordon | Mera | Lois Lane | Hippolyta | Zeus | Artemis | Green Lantern Corps
Zack Snyder's Justice League: Justice League (Superman | Batman | Wonder Woman | The Flash | Cyborg | Aquaman) | Alfred Pennyworth | James Gordon | Mera | Lois Lane | Hippolyta | Nuidis Vulko | Martian Manhunter | Zeus | Artemis | Green Lantern Corps
Direct-to-video Movies
Justice League: The Flashpoint Paradox: The Flash | Batman | Thomas Wayne | Cyborg | Kal-El | Cole Cash | Godiva | Steve Trevor | Lois Lane | Etrigan | S.H.A.Z.A.M. | Samuel Lane
Justice League: War: Justice League (Batman, Superman, Green Lantern, Wonder Woman, Shazam, & Cyborg) | Steve Trevor | Freddy Freeman |Sarah Charles | Thomas Morrow | Silas Stone
Justice League: Throne of Atlantis: Aquaman: | Atlanna | Mera | Justice League (Batman, Cyborg, The Flash, Green Lantern, Shazam, Superman, & Wonder Woman) | Steve Trevor | Lois Lane
Justice League vs. Teen Titans: Teen Titans (Raven, Robin, Starfire, Blue Beetle, Beast Boy, & Nightwing) | Justice League (Batman, Cyborg, The Flash, Superman, & Wonder Woman)