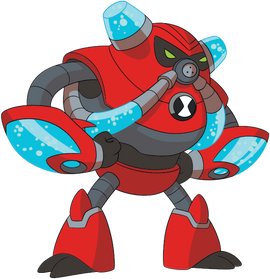 Overflow is the Omnitrix's DNA sample of an Cascan from Cascareau.
He is voiced by Max Mittelman, who also voices Plagg, Harry Osborn and Konohamaru Sarutobi.
Appearance
Overflow is a red metalic alien. He has two containers with water on his head and has black mask-like markings around his green eyes. He has two tubes of water reaching from a respirator where his mouth should be to his back, and his forearms are filled with water. He has black three-fingered hands and two black toes on each foot.
Overflow wears the Omnitrix symbol on his chest.
Powers and Abilities
Overflow has an armored exoskeleton which protects his body from damage, including radiation. He also has enhanced strength.
Overflow can launch pressurized water blasts from the tanks on his forearms. Overflow can use these to propel himself by spraying water downwards. He also can create water blades.
Overflow is able to breathe underwater, as well as swim at high speeds with amazing agility. He has great endurance and can withstand strong water pressure.
Weaknesses
History
Ben 10
Overflow first appeared in Waterfilter, where he battled the Hydromanders twice.
In The Ring Leader, Overflow defeated Iron Kyle.
In Brief Career of Lucky Girl, Overflow battled Hex.
In Clown College, Overflow spoiled a prank.
In Ben 24hrs, Overflow walked asleep.
In Need for Speed, Overflow saved Lagrange.
In All Wet, Overflow defeated Frightwig.
He was locked by the omnitrix after Inervasion
Trivia
Overflow resembles Water Hazard but with water visible in his design. His hydrokinetic power set is also very similar. He is supposedly based on Water Hazard.
The sound of water-bubbles popping is heard when Overflow is on-screen.
See also