✔



Click To Help !

Whatever life holds in store for me, I will never forget these words: "With great power comes great responsibility."

Spider-Man has declared that this article is still under construction.
Please don't delete or edit this article yet because it may contrast with the original author's edits.
After I finish this article, the world will be saved!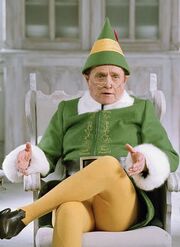 Papa Elf is Buddy's adopted father who takes good care of him until he found out that he's not an elf who works for Santa Claus because his biological father is, Walter Hobbs who is on the naughty list and Buddy must teach his real father and the citizens of New York city the true meaning of Christmas.
He is played by Bob Newhart who also voices Bernard in Disney's The Rescuers and its sequel.
He narrates Buddy's story throughout the film.
History
Papa Elf is first seen in the beginning when young Buddy arrives at the North Pole after crawling into Santa Claus's sack. Since he had never settled down and had children, Papa Elf adopts him. Buddy grows up a elf and he is a adult when Papa Elf finally confesses to him that he is a human. His mother Susan Wells, gave him up for adoption. She died sometime afterwards.
Buddy's father, Walter Hobbs, didn't know that he was born. Papa Elf explains that Walter is on the naughty list. He is seen in the end of the film wanting to hold Buddy's baby daughter, Susie, but Buddy sits on him.