Fire Emblem Warriors: Three Hopes - The Loop
Play Sound

✓



Click To Help SCP-999!

SCP-999 believes that this article has stopped in time, and any and all information on it may be outdated.
Help improve this article by checking and updating its info wherever necessary.
And now time resumes!
This page is about the Disney incarnation. For the original Collodi character, click here.
Pinocchio is the titular main protagonist of the 1940 animated Disney film of the same name , which is based on the original 1883 novel, The Adventures of Pinocchio by the late Carlo Collodi. He is a living puppet, who must prove himself worthy to become a real boy, with the help of Jiminy Cricket as his conscience.
He was voiced by the late Dickie Jones in the film, and Seth Adkins voices him in the Kingdom Hearts series and other media. He first appeared in some ads created by Walt Disney in 1939. So Pinocchio became a Disney Character before the movie was released. In the MAD TV series, he was voiced by Rachel Ramras. In the Robot Chicken series, he was voiced by Seth Green and Adam Talbot. In the Japanese dub, he was voiced by Masumi Goto, Chika Sakamoto in Who Framed Roger Rabbit, Yuki Tokiwa in Disney's House of Mouse and Kingdom Hearts and Yasutomo Yamaguchi in Kingdom Hearts 3D: Dream Drop Distance. In the upcoming live-action remake, he will be portrayed by Benjamin Evan Ainsworth.
Background
Development
One of the most challenging tasks the Disney studios went through during the making of the film was finding the perfect Pinocchio. The animators tried and tried to get the right wooden boy. The tasks was so frustrating that Walt Disney actually ceased production on the film until they were able to find to right Pinocchio. Soon enough animator Milt Kahl created a small piece of animation that would eventually become Walt Disney's Pinocchio.
In early drafts, Pinocchio also retained his more obnoxious traits from the book, though Walt hated the direction as Pinocchio was not likable enough. Eventually, further development lead to Pinocchio taking on the more innocent traits he has in the final film.
Personality
Pinocchio was originally planned to be a bratty and selfish know-it-all character. Much like the original story, Pinocchio was going to be rude but Walt Disney knew that was not the little wooden boy for his film. Pinocchio transformed from a brat of a kid to a truly innocent little boy made of wood. Through the course of the film Pinocchio became more and more aware of the dangers of his life and even set out to rescue his father from a legendary sea monster which would soon give him the earnings of becoming a real boy.
Role in the film
In the film, Pinocchio was first introduced as a lifeless puppet in Geppetto's workshop. When it was time for bed, Geppetto caught sight of a wishing star and wished Pinocchio to become a real boy. Once Geppetto fell asleep, his home was visited by the Blue Fairy, who brought Pinocchio to life and Jiminy Cricket became his official conscience to tell him right from wrong, for, if Pinocchio proved himself brave, truthful and unselfish, he would be transformed into a real boy. Geppetto discovered his puppet is alive and celebrated along with Figaro the kitten and Cleo the goldfish.
The next morning, Pinocchio is ready for school, but is stopped by two villainous actors: J. Worthington Foulfellow (a.k.a. "Honest John") and his silent sidekick, Gideon, who tricks him into working for Stromboli, a puppeteer. They tell him being rich and famous is the only way to live. Pinocchio listens, believes, and ends up following the wrong path. Jiminy tries to stop him, but is unsuccessful, so he chases after him.
Pinocchio became the star of Stromboli's marionette show. Stromboli is paid beyond his wildest dreams for Pinocchio's magnificent performance. After the show, Pinocchio and Stromboli are dining and the man's true nature is revealed as parsimonious, evil and rotten. Stromboli cages Pinocchio and threatens him to perform. Pinocchio manages to escape with the help of Jiminy and the Blue Fairy, but he is scolded for lying to the Blue Fairy and ignoring Jiminy Cricket's advice.
During their trip home, Pinocchio and Jiminy race home, but Pinocchio is stopped once again by Honest John and Gideon. They tell Pinocchio he is sick and the only one cure is a vacation on Pleasure Island. They take him to the Coachman, along with many other boys, including a brat named Lampwick, who Pinocchio calls his best friend as the two have fun together on Pleasure Island.
Once the place is torn apart, everyone has vanished, except Lampwick and Pinocchio, who are smoking and drinking while playing pool. Once Jiminy confronts the two, he is so mad after Lampwick insults him, he storms out. Soon, Jiminy discovers the Coachman's plan; Pleasure Island has the power to transform bad boys into donkeys, which the Coachman sells into slavery, and rushes back to get Pinocchio.
After Lampwick is transformed into a complete donkey, Pinocchio sprouts donkey ears and tail and panics. Jiminy then returns and tells Pinocchio that all the boys are now donkeys, sees he's part donkey too, and tells him to run and escape the island before the transformation could go any further. Pinocchio and Jiminy barely escape, going down a small rocky path which is the only way out of there.
The two finally reach home, but realize there's no one home. They sit and wait on the steps for everyone to return. Suddenly, the Blue Fairy comes in the shape of a dove and gives them a letter which tells them Geppetto was eaten by Monstro the Whale.
The pair start searching the ocean for Monstro with very little luck. When they ask sea creatures such as clams and seahorses, they swim and hide in fear at the mention of Monstro's name. Meanwhile, after a nap, Monstro awakens and begins an eating frenzy. Everything in his path was either devoured or destroyed (including Pinocchio). Once Monstro was found, Pinocchio was able to reunite with Geppetto, Figaro and Cleo. Pinocchio soon thinks of a plan to escape Monstro by making him sneeze.
Once Pinocchio is able to get Monstro to sneeze them, the whale furiously shakes and drinks lots of water to put out the fire then chases after him and his father. The whale destroys the raft, sending Pinocchio and Geppetto into the unforgiving sea. After witnessing his father almost drowning, Pinocchio grabs him and swims to shore as quick as he can, but it's too late. Even before he gets there, Monstro slams into a rocky wall, creating a forty foot tidal wave, violently sending Pinocchio, Gepetto, Figaro, Cleo, and Jiminy to shore. All of them, except Pinocchio make land on the shore unharmed. When Jiminy looks for Pinocchio, he makes a very depressing discovery, Pinocchio is lying face down in the water.
Geppetto, Figaro, Cleo, and Jiminy return home and grieve over Pinocchio. However, the Blue Fairy revives Pinocchio and transforms him into a real boy because he has now proved himself brave, truthful and unselfish as Geppetto, Figaro, Cleo, Jiminy and Pinocchio began the celebration once again as Jiminy goes outside from Geppetto's window to thank the Blue Fairy for reviving Pinocchio and transforming him into a real boy. Jiminy is then awarded with a certified 14-karat conscience badge for being a good conscience to Pinocchio to which Jiminy thinks its swell as he holds out his badge at the stars.
Other Appearances
Who Framed Roger Rabbit
Pinocchio makes a cameo appearance at the end of Who Framed Roger Rabbit, among the group of toons wondering what sort of Toon Judge Doom was.
Aladdin
In the 1992 film, the Genie briefly transformed his face into Pinocchio when he thinks Aladdin is lying about using his third wish to set him free.
House of Mouse
Pinocchio made numerous cameo appearances in the television series House of Mouse, where he was voiced by Michael Welch. His most prominent appearance on the show was in the episode "Jiminy Cricket", in which Pain and Panic convince him to hang out with them and ditch Jiminy. Pinocchio tries to return but he finds out that Jiminy is now Mickey Mouse's conscience instead, so Pinocchio leaves with Pain and Panic. In the end, Pinocchio speaks up and reunites with Jiminy. In another episode, Pinocchio was seen being used as a regular puppet by Geppetto. In Goofy's Menu Magic, Pinocchio and Geppetto can be briefly seen sailing on their raft in a sea of soup.
Video Games
Kingdom Hearts series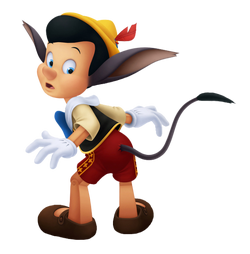 Pinocchio is a recurring character in the popular Kingdom Hearts series. He, along with Geppetto, was briefly trapped in Monstro, but eventually rescued and moved to Traverse Town until their world was restored.
Kingdom Hearts
As with the movie, Pinocchio is, originally, a wooden puppet brought to life by the Blue Fairy after his maker Geppetto wished for a son, and Jiminy Cricket has been assigned to be Pinocchio's conscience, because he's too young to know the difference between right and wrong. Unfortunately for all three, the Heartless destroyed their world, causing them to become separated.
Jiminy ends up at Disney Castle, where he becomes the Royal Scholar and is eventually assigned to travel with Donald and Goofy (and later Sora) to write down their adventures.
It is unknown where Geppetto went, but as Sora, Donald and Goofy travel throughout the different worlds, they discover Pinocchio running around Traverse Town. Without his conscience, Pinocchio has been misbehaving, but in the end, Jiminy manages to set him straight. Pinocchio promises Jiminy that he would behave from that point onwards and find his father.
Some time after Pinocchio escapes Traverse Town (currently, it is unknown how such a feat was accomplished), he's reunited with his father and both of them end up inside of Monstro.
When Sora, Donald and Goofy are on their way to Atlantica or Halloween Town (depending on the player's choice), Monstro comes and swallows their Gummi Ship whole. The trio wake up inside of Monstro's mouth and, after exploring, reunite with Pinocchio once more and finally meet his father, Geppetto.
Pinocchio, however, notices Riku (it's unknown how Riku got to Monstro, though it seems likely he used a portal of darkness to get there) from afar, running into one of Monstro's bowels. Curious, Pinocchio follows Riku but is captured by him, as Riku hopes to use Pinocchio's heart to revive Kairi's. Riku leads Sora, Donald and Goofy on a chase of hide and seek, constantly throwing taunts to his old friend. Pinocchio eventually manages to escape from Riku, but runs into a giant Heartless, the Parasite Cage, and ends up trapped inside it.
The Parasite Cage attempts to steal the puppet's heart. It's because of this that Riku and Sora team up to destroy it- but after rescuing Pinocchio, Riku kidnaps him again and eventually takes Pinocchio's heart, believing it can replace Kairi's.
Thanks to the compassion of Jiminy Cricket and Pinocchio's friends, together they manage to return Pinocchio to his former self.
After Sora, Donald and Goofy leave Monstro, it is later seen that Pinocchio and Geppetto are now living in Traverse Town in a house found for them by Leon, trying to piece their life together again. At the end of the game, during the credits, Pinocchio has become a real human boy.
Kingdom Hearts: Chain of Memories
Pinocchio reappears in Kingdom Hearts: Chain of Memories as a fragment of Sora's memories. In this version, he feels guilty for getting trapped within Monstro, and so goes deeper into the giant whale's body to find a way out.
When the trio finally catch up, Pinocchio is caught inside a Parasite Cage Heartless again. After they defeat the heartless, Sora teaches Pinocchio to be brave and fight his way out. He does so and frees himself just before the monster vaporizes. Then, he gives them an idea about making Monstro sneeze to escape. After he gave them his idea, he returns to Geppetto. When the trio heroes make the monster sneeze, Pinocchio and Geppetto escape to safety.
Kingdom Hearts 3D: Dream Drop Distance
It has been confirmed that Pinocchio will be featured in the upcoming installment in his homeworld Prankster's Paradise. Recent scans show the Pinocchio has been reverted into a puppet.
Gallery
Images
Trivia
Pinocchio is the only Disney animated film to earn a 100% rating on Rotten Tomatoes.

Heroes
Animated Features
Snow White | Seven Dwarfs (Doc, Bashful, Grumpy, Happy, Sleepy, Sneezy & Dopey) | The Prince | The Huntsman | Pinocchio | Jiminy Cricket | Geppetto | Blue Fairy | Figaro | Cleo | Sorcerer Mickey | Madame Upanova | Hyacinth Hippo | Ben Ali Gator | Dumbo | Timothy Q. Mouse | Mrs. Jumbo | The Crows | Bambi | Thumper | Flower | Faline | Bambi's Mother | Great Prince of the Forest | Friend Owl | José Carioca | Panchito Pistoles | Willie the Whale | Bongo the Bear | Lulubelle | Willie | Mr. J. Thaddeus Toad | Water Rat | Moley | Angus MacBadger | Cyril Proudbottom | Pecos Bill | Ichabod Crane | Cinderella | Jaq and Gus | Anastasia Tremaine | Fairy Godmother | Prince Charming | Bruno | The King | Grand Duke | Alice Liddell | White Rabbit | Peter Pan | Tinker Bell | Wendy Darling | John Darling | Michael Darling | Tick-Tock the Crocodile | Nana | Lady | Tramp | Trusty | Jock | Annette, Collette and Danielle | Aurora | Prince Phillip | Flora | Fauna | Merryweather | King Stefan | Queen Leah | King Hubert | Lord Duke | Forest Animals | Pongo | Perdita | Roger Radcliffe | Anita Radcliffe | Nanny | Lucky | Patch | Rolly | Danny | Colonel | Sergeant Tibbs | Captain | Arthur Pendragon | Merlin | Mowgli | Baloo | Bagheera | King Louie | Colonel Hathi | Shanti | Winifred | Rama | Vultures | Raksha | Duchess | Thomas O'Malley | Marie | Toulouse | Berlioz | Scat Cat | Abigail and Amelia Gabble | Frou-Frou | Roquefort | Robin Hood | Little John | Maid Marian | Friar Tuck | Lady Kluck | Alan-A-Dale | King Richard | Toby Turtle | Winnie the Pooh | Tigger | Piglet | Eeyore | Rabbit | Owl | Kanga | Roo | Christopher Robin | Gopher | Bernard | Bianca | Penny | Orville | Evinrude | Tod | Copper | Big Mama | Dinky and Boomer | Vixey | Widow Tweed | Tod's mother | Taran | Gurgi | Eilonwy | Fflewddur Fflam | Basil of Baker Street | Dr. David Q. Dawson | Olivia Flaversham | Toby | Hiram Flaversham | Oliver | Dodger | Tito | Rita | Francis | Einstein | Fagin | Jenny Foxworth | Georgette | Winston | Ariel | Eric | Sebastian | Flounder | Scuttle | King Triton | King Triton's Daughters (Attina, Alana, Adella, Aquata, Arista, Andrina) | Max | Cody | Jake | Marahute | Wilbur | Frank | Belle | Beast | Lumière | Cogsworth | Mrs. Potts | Chip Potts | Fifi | Maurice | Aladdin | Jasmine | Genie | Magic Carpet | Abu | Rajah | Iago | Razoul | The Sultan | Jack Skellington | Sally | Zero | Mayor of Halloween Town | Santa Claus | Simba | Mufasa | Nala | Timon | Pumbaa | Rafiki | Zazu | Sarabi | Sarafina | Pocahontas | John Smith | Meeko | Flit | Grandmother Willow | Percy | Thomas | Nakoma | Chief Powhatan | Quasimodo | Esmeralda | Captain Phoebus | Victor, Hugo, & Laverne | Djali | Clopin | Hercules | Megara | Pegasus | Philoctetes | Zeus | Hera | Hermes | Olympian Gods (Poseidon, Aphrodite, Apollo) | Muses | Fa Mulan | Mushu | Li Shang | Cri-Kee | Grandmother Fa | Yao, Ling, and Chien Po | Khan | Ancestors | The Emperor of China | Tarzan | Jane Porter | Terk | Tantor | Kala | Archimedes Q. Porter | Kerchak | Baboons | Whales | Tin Soldier | Ballerina | Yo Yo Flamingo | Spring Sprite | Aladar | Plio | Zini | Yar | Suri | Neera | Eema | Baylene | Url | Bruton | Emperor Kuzco | Pacha | Kronk | Milo James Thatch | Kida | Dr. Joshua Sweet | Vincenzo Santorini | Gaetan Moliére | Audrey Ramirez | Cookie | Wilhelmina Packard | Preston B. Whitmore | Stitch | Lilo Pelekai | Nani Pelekai | Jumba Jookiba | Captain Gantu | Pleakley | David Kawena | Cobra Bubbles | Grand Councilwoman | Jim Hawkins | John Silver | Dr. Doppler | Captain Amelia | Mr. Arrow | Morph | B.E.N. | Kenai | Denahi | Sitka | Koda | Rutt and Tuke | Tanana | Maggie | Grace | Mrs. Calloway | Buck | Lucky Jack | Chicken Little | Abby Mallard | Runt of the Litter | Fish Out of Water | Buck Cluck | Lewis Robinson | Wilbur Robinson | Franny Robinson | Lefty | Bolt | Mittens | Rhino | Penny | Tiana | Prince Naveen | Louis | Ray | Charlotte La Bouff | Eli "Big Daddy" La Bouff | Mama Odie | Juju | Evangeline | Rapunzel | Flynn Rider | Pascal | Maximus | Wreck-It Ralph | Vanellope von Schweetz | Fix-It Felix, Jr. | Sergeant Calhoun | Wynnchel and Duncan | Sour Bill | Sugar Rush Racers (Taffyta Muttonfudge, Candlehead, Rancis Fluggerbutter) | Queen Anna | Queen Elsa | Kristoff | Olaf | Sven | Hiro Hamada | Baymax | Honey Lemon | GoGo Tomago | Wasabi | Fred | Tadashi Hamada | Cass Hamada | Alistair Krei | Judy Hopps | Nick Wilde | Chief Bogo | Mr. Big | Moana Waialiki | Maui | Grandma Tala | Chief Tui | Ocean | Heihei | Te Fiti | Yesss | Shank | J.P. Spamley | Gord | KnowsMore | Lieutenant Mattias | Yelana | Honeymaren Natura | Ryder Nattura | Bruni | Gale | The Nokk | Raya | Sisu | Boun | Noi | Tong | Ongis | Tuk Tuk | Chief Benja | Mirabel Madrigal | Bruno Madrigal | Alma Madrigal | Pico | Luisa Madrigal | Antonio Madrigal | Dolores Madrigal | Camilo Madrigal | Isabela Madrigal | Julieta Madrigal | Agustín Madrigal | Pepa Madrigal | Félix Madrigal
Live-Action Films
Marnie Piper | Aggie Cromwell | Gwen Piper | Dylan Piper | Sophie Piper | Long John Silver | Perri | Travis Coates | Old Yeller | Nikki | Neewa | Big Red | Blackbeard | Herbie | Mary Poppins | Bert | George Banks | Winifred Banks | Jane Banks | Michael Banks | Chico | Goodtime Charlie | Dexter Reilly | Wahb | Moki | Miss Eglantine Price | Theodore and Amos | Pete | Elliott | Nora | Zunar-J-5/9 Doric-4-7 | Frank Wilson | Popeye | Olive Oyl | Tron | Kevin Flynn | Alan Bradley | Dorothy Gale | Princess Ozma | Jack Pumpkinhead | Billina | Tik-Tok | The Gump | Wolf | Benji | Cougar cubs | Mother Cougar | Jim Craig | Roger Rabbit | Eddie Valiant | Jessica Rabbit | Dolores | Benny the Cab | Baby Herman | Ted Johnson | Susan Johnson | Morogo | Duma | White Fang | Jack Convoy | Henry Casey | Buck | Cliff Secord | Jenny Blake | Gordon Bombay | Wayne Szalinski | Max Dennison | Dani Dennison | Allison | Thackery Binx | Tom Sawyer | Huckleberry Finn | Aramis | Athos | D'Artagnan | Porthos | George Knox | Scott Calvin | Charlie Calvin | Shadow | Chance | Sassy | Shere Khan | Jim Hawkins | James Henry Trotter | Mr. Centipede | Mr. Grasshopper | Earthworm | Mrs. Ladybug | Miss Spider | The Glowworm | George of the Jungle | Ursula Stanhope | Ape | Phillip Brainard | Sara Jean Reynolds | Mr. Magoo | Nick Parker | Annie James | Nick Parker | Elizabeth James | Mighty Joe Young | Jill Young | Gregg O'Hara | Martin | Inspector Gadget | Penny Gadget | Brain | Dr. Brenda Bradford | Mia Thermopolis | Max Keeble | Megan | Robe | Carol Newman-Calvin | Stanley Yelnats IV | Zero | Lizzie McGuire | Captain Jack Sparrow | Joshamee Gibbs | Will Turner | Elizabeth Swann | Hector Barbossa | Pintel & Ragetti | James Norrington | Jim Evers | Sarah Evers | Madame Leota | Emma | Anna Coleman | Phileas Fogg | Inspector Fix | Ben Gates | Riley Poole | Abigail Chase | Shane Wolfe | Zoe Plummer | Lulu Plummer | Will Stronghold | Layla Williams | Warren Peace | Zach | Ethan | Magenta | Ron Wilson | The Commander | Jetstream | Freeze Girl | Principal Powers | Coach Boomer | Jonathan Boy | Peter Pevensie | Susan Pevensie | Edmund Pevensie | Lucy Pevensie | Aslan | Mr. Beaver | Dave Douglas | The Snake | Jess Aarons | Leslie Burke | Giselle | Robert Philip | Prince Edward | Pip | Nathaniel | Underdog | Sweet Polly Purebred | Skeeter Bronson | Darwin | Blaster | Hurley | Juarez | Mooch | Bucky | Alice Kingsleigh | Mad Hatter | White Queen | Bandersnatch | Prince Dastan | Princess Tamina | Sheik Amar | Dave Stutler | Becky Barnes | Balthazar Blake | Balthazar's Eagle | Veronica Gorloisen | Prime Merlinean | Merlin | Sam Flynn | Quorra | Syrena | Walter | John Carter | Troy Bolton | Sharpay Evans | Ryan Evans | Gabriella Montez | Chad Danforth | Taylor McKessie | The Lone Ranger | Tonto | Oscar Diggs | Glinda the Good Witch of the South | China Girl | Maleficent (2014) | Diaval | Aurora (2014) | Prince Phillip (2014) | Knotgrass, Flittle and Thistlewit | The Baker | Cinderella | Rapunzel | Little Red Riding Hood | Cinderella (2015) | Prince Charming (2015) | Anastasia Tremaine (2015) | Mice (2015) | Fairy Godmother (2015) | Jaq and Gus (2015) | Lizard Footmen | Mr. Goose | Casey Newton | Frank Walker | Athena | Rey | Finn | Poe Dameron | BB-8 | Maz Kanata | Luke Skywalker | Leia Organa | Han Solo | Chewbacca | C-3PO | R2-D2 | Obi-Wan Kenobi | Anakin Skywalker | Mowgli (2016) | Bagheera (2016) | Baloo (2016) | Raksha (2016) | Akela (2016) | The BFG | Sophie | Pete (2016) | Elliott (2016) | Grace Meacham | Conrad Meacham | Natalie Magary | Gavin Magary | Jack Magary | Belle (2017) | Beast (2017) | Maurice (2017) | LeFou (2017) | Lumière (2017) | Cogsworth (2017) | Mrs. Potts (2017) | Chip Potts (2017) | Henry Turner | Carina Smyth | Rose Tico | Amilyn Holdo | Yoda | Christopher Robin (2018) | Winnie the Pooh (2018) | Madeline Robin | Evelyn Robin | Eeyore (2018) | Tigger (2018) | Piglet (2018) | Giles Winslow Sr. | Mary Poppins | Jack | Jane Banks | Michael Banks | Annabel Banks | John Banks | Georgie Banks | Clara Stahlbaum | Phillip Hoffman | Mother Ginger | Mouse King | Dumbo (2019) | Holt Farrier | Milly and Joe Farrier | Max Medici | Colette Marchant | Aladdin (2019) | Jasmine (2019) | Genie (2019) | Magic Carpet (2019) | Abu (2019) | Rajah (2019) | Dalia | The Sultan (2019) | Simba (2019) | Mufasa (2019) | Nala (2019) | Timon (2019) | Pumbaa (2019) | Rafiki (2019) | Zazu (2019) | Sarabi (2019) | Sarafina (2019) | Conall | Borra | King John | Lady (2019) | Tramp (2019) | Jock (2019) | Trusty (2019) | Zorii Bliss | Lando Calrissian | Ewoks | Artemis Fowl | Holly Short | Juliet Butler | Mulch Diggums | Domovoi "Dom" Butler | Foaly | Commander Julius Root | Ivan | Bob | Stella | Ruby | Snickers | Henrietta | Murphy | Frankie | Thelma | Hua Mulan | Commander Tung | Chen Honghui | Yao, Ling, and Chien Po (2020) | The Emperor of China (2020) | Flora Buckman | Cruella De Vil (2021) | Jasper and Horace (2021) | Buddy | Wink | Anita Darling | Artie | John | Frank Wolff | Lily Houghton | MacGregor Houghton | Proxima | Ugly Sonic | Detective Ellie Steckler | Mal | Carlos De Vil | Jay | Evie | Ben | Lonnie | Jane | Dizzy Tremaine | Celia Facilier | Addison Wells | Zed Necrodopolis | Zliza Zambi | Bree | Bonzo | Willa Lykensen | Wyatt Lykensen | Wynter Barkowitz
Other Animated Movies
Br'er Rabbit | Toaster | Blanky | Kirby | Lampy | Radio | Roger Rabbit | Eddie Valiant | Jessica Rabbit | Dolores | Benny the Cab | Baby Herman | James Henry Trotter | Mr. Centipede | Mr. Grasshopper | Earthworm | Mrs. Ladybug | Miss Spider | The Glowworm | Valiant | Bugsy | Lofty | Toughwood & Tailfeather | Mercury | Victoria | Wing Commander Gutsy | Sergeant Monty | Charles De Girl | Rollo | Samson | Benny | Bridget | Nigel | Larry | Ryan | Blag | Cloak & Camo | Stan & Carmine | Silvermist | Rosetta | Fawn | Iridessa | Bobble and Clank | Terence | Ebenezer Scrooge | Milo | Gribble | Ki | Milo's Mother | Victor Frankenstein | Sparky | Elsa Van Helsing | Dusty Crophopper | Dottie | Skipper Riley | Sparky | El Chupacabra | Vidia | Lizzy | Periwinkle | Zarina | Gruff | Greg Heffley | Rowley Jefferson
Sequels
Ethan Dalloway | Cassim | Angelique | Fife | John Rolfe | Uttamatomakkin | Kiara | Kovu | Vitani | Ratso | Murgatroid the Snake | Melody | Tip and Dash | Sylvia Marpole | Scamp | Angel | Baker | Madellaine | Zephyr | Prudence | Jane Darling | Ranjan | Messua | Sparky | Reuben | Thunderbolt | Lars | Ting-Ting, Su, and Mei | Zugor | Cash | Atka | Dixie | Granny Rose | Waylon and Floyd | Queen Athena | Blade Ranger | Maru | Windlifter
Shorts, TV Shows, Comics and Video Games
Pete | Oswald the Lucky Rabbit | Mickey Mouse | Minnie Mouse | Horace Horsecollar | Clarabelle Cow | Pluto | Goofy | Donald Duck | Daisy Duck | Ludwig Von Drake | Scrooge McDuck | Huey, Dewey, and Louie | Mortimer Mouse | Chip and Dale | Spike the Bee | Max Goof | Gladstone Gander | Fethry Duck | Gruffi Gummi | Zummi Gummi | Grammi Gummi | Cubbi Gummi | Sunni Gummi | Tummi Gummi | Gusto Gummi | Cavin | Princess Calla | King Gregor | Sir Tuxford | Sir Gawain | Sir Victor | Princess Marie | Aquarianne | Papa Heffalump | Mama Heffalump | Junior Heffalump | Kessie | Wooster | Nasty Jack | Bruno | Dexter | Gyro Gearloose | Launchpad McQuack | Webby Vanderquack | Bentina Beakley | April, May and June | Darkwing Duck | Gosalyn Mallard | Honker Muddlefoot | Mona | Morgana Macawber | Bonkers D. Bobcat | Miranda Wright | Goliath | Elisa Maza | Broadway | Angela (Gargoyles) | Lexington | Brooklyn | Hudson | Bronx | Pistol Pete | Peg Pete | P.J. | Kit Cloudkicker | Rebecca Cunningham | Chiro | Jinmay | Cassandra | Lance Strongbow | Adira | Varian | Kiera and Catalina | Gabriella | Spot the Killer Whale | Urchin | Sora | Kairi | Riku | Aqua | Terra (Lingering Will) | Ventus | Organization XIII (Axel, Xion, Roxas, Vexen) | Lea | Ienzo | Zak William Lake | Lauriam | Elrena | Strelitzia | Naminé | Riku Replica | Ansem the Wise | Master Eraqus | Spirit Dream Eaters | Data-Naminé | Data-Riku | Data-Roxas | Data-Sora | McGee | Gretchen | Squirt | Molly McGee
See Also
101 Dalmatians Heroes | 20th Century Studios Heroes | A Bug's Life Heroes | A Twisted Tale Heroes | Aladdin Heroes | Amblin Entertainment Heroes | Amphibia Heroes | Atlantis Heroes | Beauty and the Beast Heroes | Big Hero 6 Heroes | Buena Vista International Heroes | Buzz Lightyear of Star Command Heroes | Cars Heroes | Darkwing Duck Heroes | Disney Fairies Heroes | Disney Junior Heroes | Disney Prince | Disney Princesses | DuckTales Heroes | Encanto Heroes | Finding Nemo Heroes | Fish Hooks Heroes | Frozen Heroes | Gargoyles Heroes | Gravity Falls Heroes | Hercules Heroes | Ice Age Heroes | Incredibles Heroes | Inside Out Heroes | Jerry Bruckheimer Heroes | Kim Possible Heroes | Kingdom Hearts Heroes | Lilo & Stitch Heroes | Luca Heroes | Lucasfilm Heroes | Marvel Cinematic Universe Heroes | Mighty Med/Lab Rats Heroes | Monsters, Inc. Heroes | Mulan Heroes | Muppet Heroes | Narnia Heroes | Onward Heroes | Peter Pan Heroes | Phineas and Ferb Heroes | Pirates of the Caribbean Heroes | Pixar Heroes | Raya and the Last Dragon Heroes | Recess Heroes | Sky High Heroes | Soul Heroes | Star Wars Heroes | Star vs. the Forces of Evil Heroes | Super Robot Monkey Team Hyperforce Go! Heroes | Tangled Heroes | Tarzan Heroes | The Hunchback of Notre Dame Heroes | The Jungle Book Heroes | The Lion King Heroes | The Little Mermaid Heroes | The Owl House Heroes | The Princess and the Frog Heroes | Tim Burton Heroes | Toy Story Heroes | Treasure Planet Heroes | Tron Heroes | Turning Red Heroes | Up Heroes | WALL-E Heroes | Wander Over Yonder Heroes | Winnie the Pooh Heroes | Wreck-It Ralph Heroes | X-Men Movie Heroes | Yin Yang Yo! Heroes | Zootopia Heroes