✔
This Hero was proposed and approved by Heroes Wiki's Pure Good Proposals Thread. Any act of removing this hero from the category without a Removal Proposal shall be considered vandalism (or a "villainous" attempt to demonize said character) and the user will have high chances of being smitten blocked. You cannot make said Removal Proposal without permission of an administrator first.
Agent Wendell "Wendy" Pleakley is one of the tritagonists in the Lilo & Stitch franchise. He served as an antagonist turned one of the tritagonists in the original film, a major character in the TV series and the 2003 film, a supporting character in the 2006 film and one of the two secondary tritagonists of the 2005 film, Lilo & Stitch 2: Stitch Has a Glitch.
A former member of the Galactic Federation, Pleakley reluctantly became Jumba Jookiba's partner when forced to assist him in capturing the escaped Stitch, and is now best friends with the former evil scientist.
He is voiced by Kevin McDonald who also voices Tallest Purple. In Japanese dub from the movie, he is voiced by Yuji Mitsuya who also voiced Timon in Lion King, Rex in Toy Story, Murray in Hotel Transylvania, and Shin in Dragon Ball Z.
Background
Pleakley is a one-eyed, "noodly" alien from the planet of Plorgonar and, as mentioned above, is a former member of the Galactic Federation, serving as their "Earth expert", and seemingly held in high regards, as he was summoned once the Grand Councilwoman demanded an Earth expert in her presence during the initial escape and pursuit of Stitch. However, whether or not Pleakley had traveled to Earth prior to the events of the film is questionable, though his childlike fascination and wonder of the planet shown throughout imply that he has not, and is merely one who studies from afar.
Physical Appearance
Pleakley is a skinny lime-green alien. In his "agent" form, he wears a blue agent uniform with gold epaulets that carry brownish-gold trimmings, three matching vertical buttons, matching wrist linings, and matching brooch with a small red jewel on it. He also wears a black belt with a round gold buckle and brown pouch with a flap on his left. In his "housewife" form, he wears an orange sleeveless jumpsuit with white muumuu designs on it and a matching sarong. He also at times wears a feminine brown wig on his head.
Personality
Pleakley is a fairly over-the-top, and obsessive character, prone to panicking and making a large fuss over the smallest things, though, in his perspective, they often mean a great deal. His actions are often performed out of raw emotion, a false sense of logic, and ignorance, and as such, he can sometimes be seen as a nuisance to the other characters, especially considering the prominent prideful side of his personality. Despite this, Pleakley generally means well, and has no ill-intentions or vendettas against other members of the cast, unlike the majority of the characters in the film. Instead, Pleakley's primary goal is to keep peace, while ensuring his missions and ambitions are met with success, whether they are capturing Stitch, or simply gaining a better understanding of Earth and its customs.
Pleakley has a massive fascination with Earth, its customs, and even its atmosphere. He finds just about everything unbelievably rich from mere rocks to holidays. At some points in the series, though, he voices his belief that Earth technology is rather primitive, and is shown to have a disliking towards some of its customs, such as its oceanic wildlife.
He is undoubtably loyal to the Galactic Federation, and the rules they set, which often causes conflict with rule-bending and rebellious characters such as Jumba, and Stitch. Despite this, Pleakley and Jumba have grown a strong bond over the course of the franchise, considering each other best friends, despite having no desire to work together in the original film. This is mostly seen in the television series, as well as the sequel, Stitch Has a Glitch. Also seen in the latter film, Pleakley is a supportive friend, and is shown to serve as Jumba's confidante, as well as an effective motivator of sorts, which is specifically interesting due to Jumba's equally prideful (if not a tad more so) opinion on himself.
Pleakley is also known for his habit of wearing women's clothing, originally as a disguise in the first film, but as the franchise grew, he began wearing them regularly, apparently finding them more comfortable and fashionable than men's clothing, as Pleakley is quite obsessed with fashion in some points of the series.
Appearances
Lilo & Stitch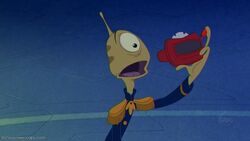 Pleakley, seemingly being an Earth expert, is first called forth by the Grand Councilwoman after the fugitive Experiment 626 crash landed on the planet Earth. Pleakley requests back-up through someone with a strong affiliation with 626 in order for the capture to go smoothly. He is paired with 626's creator Dr. Jumba Jookiba. The duo travel to Earth and land in Hawaii, where Stitch currently resides. They quickly spot him exiting an animal shelter with a human girl named Lilo. Jumba nearly blasts both Lilo and 626 (now named "Stitch" by Lilo), but Pleakley interferes and prevents the blast. He feels the human race shouldn't be affected by the hunt in any way and that they should disguise themselves to blend in.
However, Jumba realizes Stitch is simply using Lilo as a human shield, which he claims is low even for Stitch himself. For the entire day, Jumba and Pleakley followed Stitch all over the island and that night, at a luau, they make their first attempt, using alien bait (a green, amethyst-spotted chicken-like drumstick) to lure Stitch to them, but Stitch bites on to Pleakley's head before he is able to handcuff him. Nani, Lilo's older sister, arrives and removes Stitch. Later on that night, Pleakley and Jumba rested on a hill overlooking Lilo's home where they have a perfect view of Stitch.
The next day, at the beach, Pleakley and Jumba once again make an attempt to capture Stitch but fail yet again. Soon after their latest fail, the Grand Councilwoman contacts Pleakley and fires them. As a result, Jumba now has no restrictions on the capture of Stitch and can cause as much destruction as he wants. After a destructive battle in Lilo's house with Stitch, Lilo is accidentally kidnapped by Gantu, who was hired by the Grand Councilwoman to capture Stitch in place of Pleakley and Jumba. The duo successfully capture Stitch anyway, but are confronted by Nani, who witnessed Lilo's kidnapping and blamed Stitch for it. Jumba agrees to help Nani and Stitch rescue Lilo with Pleakley joining reluctantly. They chase after Gantu with their ship. Stitch successfully rescues Lilo and when they return to the island, the Grand Councilwoman leaves Stitch in the custody of Lilo and Nani. Jumba and Pleakley are also left behind on Earth and become additions to Lilo's "ohana".
Lilo & Stitch 2: Stitch has a Glitch
Pleakley (now living with Lilo and Nani) has become comfortable with his new life on Earth, but soon enough, Stitch becomes out of control during a family movie night. Jumba fears the worst and heads to his ship, having Pleakley follow. Pleakley spends most of his time trying to find out what's wrong with Stitch and beholds a chilling discovery: Stitch is on the verge of death. Together, Pleakley and Jumba work together to create a machine to save Stitch.
A side story involving Pleakley revolves around David, who believes Nani is losing interest in him. Pleakley comes to his aid and tries to give advice on romance.
Stitch! The Movie
Pleakley appears in the film, trying to help free Jumba from Gantu and Dr. Hämsterviel. He is now referred to as Lilo's "aunt". At the end of the film, Pleakley tries to return home, but the ship leaves without him and Jumba. He then accepts the fact that he's on Earth and teams up with Lilo, Stitch and Jumba to capture the remaining experiments.
Lilo & Stitch: The Series
In the television series, Pleakley is a main character, appearing in almost every episode. Like his previous appearances, he is under the guise of Lilo's "aunt" and is rather easily fascinated by what he and Jumba call "primitive earth technology and customs" such as comic books and reality television.
In one episode, he had a brief mock engagement with Nani to placate his pushy visiting mother. In this same episode, he also had a mock engagement to Jumba. Pleakley's mother is concerned that he has not found "the right girl" and that he is not married. Pleakley feels he must pretend to be married for his mother to approve and accept him. When his family arrives on Earth for the mock wedding of Nani and Pleakley, he reveals that he is happy being who he is, which includes being unmarried. After that, his family becomes more understanding of him and loves him for who he is.
Leroy & Stitch
As a reward for his help in capturing and taming all of Jumba's 625 experiments, he is granted a position at Galactic Alliance Community College as Head of Earth Studies. He gets an assistant (who is excited to learn he has actually been to Earth), a new wardrobe and the keys to the college's car pool van, but is only a supervising professor and is dissatisfied with not being able to spread his knowledge of Earth and starts to miss Jumba and the rest of Lilo's family.
He goes to visit Jumba in the GACC van, but gets caught by Hamsterviel and nearly sent into a black hole which Stitch manages to save him, Pleakley and Jumba from. He returns to Earth for the final battle with Leroy and his clones and operates the lights during Lilo and Stitch's impromptu "Aloha ʻOe" concert (accidentally blinding himself at first).
In the end, Pleakley quits his job at Galactic Alliance Community College and returns to Earth to be part of Lilo's family once again.
Stitch! anime
In the anime series, Pleakley left Earth for a research trip and eventually became stranded on an asteroid for two years. However, Pleakley was sucked into a black hole before he became stranded, and in real time it's only been two weeks. Jumba found Pleakley when his ship crashed during his hunt for Stitch.
The two escaped their prison, returned to Earth, reunited with Stitch and met his new friend Yuna. Pleakley joined Jumba and Stitch as they moved from Hawaii to the small island of Izayoi, becoming dedicated to helping Stitch earn good deeds to gain ultimate power.
Pleakley also starred in his own spin-off short segments known as, "Kung Fu Dragon Pleakley", where he gave Kung-Fu lessons, with guest appearances by other characters from the show.
Video games
Disney INFINITY: 2.0 Edition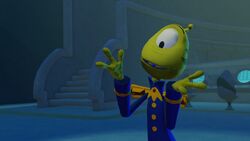 Pleakley appears as a non-playable character during the Stitch-exclusive quest, Stitch's Tropical Rescue.
Here, Pleakley is seen in panic, eventually informing Stitch that he inadvertently led the Galactic Federation into believing Earth ducklings were deadly, stating: "Earth Ducklings are so cute! Trust me, if you saw one, you would literally die." In response, the federation sent hundreds of collection robots to gather ducklings for experimentation.
After the robots are destroyed, Pleakley introduces the Ducklings to Stitch, only to inadvertently cause them to flee, claiming they're cute enough to eat.
Disney Parks
Pleakley has been utilized in various Disney parks, primarily at the Magic Kingdom (where in addition to his role in Stitch's Great Escape, a statue near a Disney Vacation Club booth has been placed).
Pleakley also appears as a walkaround at Tokyo Disneyland, having been featured in shows such as Dreams Within, HuliHuli Ohana Bash, the Aloha Christmas parade, as well as the Tokyo Disneyland Easter parade.
Stitch's Great Escape!
Pleakley can be heard in the popular attraction in Walt Disney World's Magic Kingdom, again voiced by Kevin McDonald. Pleakley introduces the guests to the attraction along with Gantu and the Grand Councilwoman. He also instructs the guests where to go during the attraction as well.
Gallery
Images
Trivia
Dave Foley, Eddie Murphy, Sean Hayes, André Benjamin, Tom Sizemore, Craig Ferguson, Steve Buscemi, Eugene Levy, Tony Danza, Gavin Rossdale, Robin Williams, Michael Madsen, Justin Theroux, Eric Idle, Terry Jones, Matthew Perry, Nathan Lane, Peter MacNicol, Crispin Glover, Steve Zahn, Woody Allen, Steven Weber, Martin Scorsese, Doug E. Doug, Tim Conway, Don Knotts, Ron Moody and John Ritter were considered for the role of Pleakley.
Pleakley's antenna is shown to act as a type of sensory organ similar to a human's ear and nose.

In "Mr. Stenchy", when it comes to scents, his antenna functions somewhat differently, allowing him to ignore or appreciate odors which a human or other individual would consider noxious or horrible, as Pleakley found Mr. Stenchy's odor appealing, while Lilo, Stitch, Jumba, and Gantu were repulsed by it.
In "Yaarp", Pleakley informs everyone that his antenna is called a Plorgonarian quart flanch, and it is capable of reading "several strata of subspace ether transmissions."
In "Spike", Nosy reveals that Pleakley secretly dyes his antenna green to match his skin because he is going prematurely orange.

Pleakley was slated to appear in the video game Kingdom Hearts: Birth by Sleep, but was dropped from the final game for unknown reasons, though he is found in the game's coding, albeit without textures.
Pleakley appears, along with several other Lilo & Stitch characters, in a parody of the Disney Channel Original Movie High School Musical, which was broadcast as part of the High School Musical: Around the World one-year anniversary special.
Ironically, despite disguising himself as a human woman, he hates his first name "Wendy", which is typically a female human name. However, according to his mother, it means "brave warrior" in Pleakley's native language (his brother Bertley wanted that name).
A running gag in Lilo & Stitch: The Series features Pleakley cooking Thanksgiving dinner, which he believes happens once a month.
In "Phantasmo", Pleakley is revealed to have upper teeth when he was screaming.
It is revealed in "Slugger" that Pleakley is an excellent basketball player because he used to play a sport virtually identical to it (Priznolaprack) on his home planet of which he was a champion.
According to "Mrs. Hasagawa's Cats", when Pix, a camera-like experiment, takes a picture of Pleakley's mouth, it is revealed that not only does he have two tongues, he also has two uvulas.
References
Heroes
Animated Features
Snow White | Seven Dwarfs (Doc, Bashful, Grumpy, Happy, Sleepy, Sneezy & Dopey) | The Prince | Huntsman | Pinocchio | Jiminy Cricket | Gepetto | Blue Fairy | Figaro | Cleo | Madame Upanova | Hyacinth Hippo | Ben Ali Gator | Dumbo | Timothy Q. Mouse | The Crows | Mrs. Jumbo | Bambi | Thumper | Flower | Faline | Bambi's Mother | Great Prince of the Forest | Friend Owl | José Carioca | Panchito Pistoles | Willie the Whale | Bongo the Bear | Lulubelle | Willie | Mr. J. Thaddeus Toad | Water Rat | Angus McBadger | Pecos Bill | Slue-Foot Sue | Ichabod Crane | Katrina Van Tassel | Cinderella | Jaq and Gus | Anastasia Tremaine | Fairy Godmother | Prince Charming | Bruno | The King | Grand Duke | Alice Liddell | White Rabbit | Peter Pan | Tinker Bell | Wendy Darling | John Darling | Michael Darling | Tick-Tock the Crocodile | Nana | Lady | Tramp | Jock | Trusty | Annette, Collette and Danielle | Aurora | Prince Phillip | Flora | Fauna | Merryweather | King Stefan | Queen Leah | King Hubert | Forest Animals | Pongo | Perdita | Roger Radcliffe | Anita Radcliffe | Nanny | Lucky | Patch | Rolly | Colonel | Sergeant Tibbs | Captain | Arthur Pendragon | Merlin | Mowgli | Baloo | Bagheera | King Louie | Colonel Haiti | Shanti | Winifred | Rama | Vultures | Raksha | Duchess | Thomas O'Malley | Marie | Toulouse | Berlioz | Scat Cat | Abigail and Amelia Gabble | Waldo | Frou-Frou | Roquefort | Robin Hood | Little John | Maid Marian | Friar Tuck | Lady Kluck | Alan-A-Dale | King Richard | Toby Turtle | Winnie the Pooh | Tigger | Piglet | Eeyore | Rabbit | Owl | Kanga | Roo | Christopher Robin | Gopher | Bernard | Bianca | Penny | Orville | Evinrude | Tod | Copper | Big Mama | Dinky and Boomer | Vixey | Widow Tweed | Tod's mother | Taran | Gurgi | Elionwy | Fflewddur Fflam | Basil of Baker Street | Dr. David Q. Dawson | Olivia Flaversham | Toby | Hiram Flaversham | Oliver | Dodger | Tito | Rita | Francis | Einstein | Fagin | Jenny Foxworth | Georgette | Winston | Ariel | Eric | Sebastian | Flounder | Scuttle | King Triton | King Triton's Daughters (Attina, Alana, Adella, Aquata, Arista, & Andrina) | Max | Cody | Jake | Marahute | Wilbur | Frank | Belle | Beast | Lumière | Cogsworth | Mrs. Potts | Chip Potts | Fifi | Maurice | Aladdin | Jasmine | Genie | Magic Carpet | Abu | Rajah | Iago | Razoul | The Sultan | Simba | Mufasa | Nala | Timon | Pumbaa | Rafiki | Zazu | Sarabi | Sarafina | Pocahontas | John Smith | Meeko | Flit | Grandmother Willow | Percy | Thomas | Nakoma | Chief Powhatan | Quasimodo | Esmeralda | Captain Phoebus | Victor, Hugo, & Laverne | Djali | Clopin | Hercules | Megara | Pegasus | Philoctetes | Zeus | Hera | Hermes | Olympian Gods (Posidon, Aphrodite, Apollo) | Muses | Fa Mulan | Mushu | Li Shang | Cri-Kee | Grandmother Fa | Yao, Ling, and Chien Po | Khan | Ancestors | The Emperor of China | Tarzan | Jane Porter | Terk | Tantor | Kala | Archimedes Q. Porter | Kerchak | Baboons | Whales | Tin Soldier | Ballerina | Yo Yo Flamingo | Spring Sprite | Aladar | Plio | Zini | Yar | Suri | Neera | Eema | Baylene | Url | Bruton | Emperor Kuzco | Pacha | Kronk | Milo James Thatch | Kida | Dr. Joshua Sweet | Vincenzo Santorini | Gaetan Moliére | Audrey Ramirez | Cookie | Wilhelmina Packard | Preston B. Whitmore | Stitch | Lilo Pelekai | Nani Pelekai | Jumba Jookiba | Captain Gantu | Pleakley | David Kawena | Cobra Bubbles | Grand Councilwoman | Mertle Edmonds | Jim Hawkins | John Silver | Dr. Doppler | Captain Amelia | Morph | B.E.N. | Kenai | Denahi | Sitka | Koda | Rutt and Tuke | Maggie | Grace | Mrs. Calloway | Buck | Lucky Jack | Chicken Little | Abby Mallard | Runt of the Litter | Fish Out of Water | Buck Cluck | Lewis | Wilbur Robinson | Franny Robinson | Lefty | Bolt | Mittens | Rhino | Penny | Tiana | Prince Naveen | Louis the Alligator | Ray the Firefly | Charlotte La Bouff | Eli "Big Daddy" La Bouff | Mama Odie | Juju | Rapunzel | Flynn Rider | Pascal | Maximus | Wreck-It Ralph | Vanellope von Schweetz | Fix-It Felix, Jr. | Sergeant Calhoun | Queen Anna | Queen Elsa | Kristoff | Olaf | Sven | Hiro Hamada | Baymax | Honey Lemon | GoGo Tomago | Wasabi | Fred | Tadashi Hamada | Cass Hamada | Alistair Krei | Judy Hopps | Nick Wilde | Chief Bogo | Mr. Big | Moana Waialiki | Maui | Grandma Tala | Chief Tui | Ocean | Heihei | Te Fiti | Yesss | Shank | J.P. Spamley | Gord | KnowsMore | Lieutenant Mattias | Yelana | Honeymaren Natura | Ryder Nattura | Bruni | Gale | The Nokk | Earth Giants | Raya | Sisu | Boun | Noi | Tong | Ongis | Tuk Tuk | Chief Benja
Live-Action Movies
Marnie Piper | Aggie Cromwell | Gwen Piper | Dylan Piper | Sophie Piper | Long John Silver | Perri | Travis Coates | Old Yeller | Nikki | Neewa | Big Red | Herbie | Chico | Goodtime Charlie | Dexter Reilly | Wahb | Moki | Miss Eglantine Price | Theodore and Amos | Pete | Elliott | Nora | Zunar-J-5/9 Doric-4-7 | Frank Wilson | Popeye | Olive Oyl | Kevin Flynn | Alan Bradley | Jack Pumpkinhead | Billina | Tik-Tok | The Gump | Wolf | Benji | Cougar cubs | Mother Cougar | Jim Craig | Roger Rabbit | Eddie Valiant | Jessica Rabbit | Benny the Cab | Ted Johnson | Susan Johnson | Morogo | Duma | White Fang | Jack Convoy | Henry Casey | Buck | Cliff Secord | Jenny Blake | Gordon Bombay | Wayne Szalinski | Max Dennison | Dani Dennison | Allison | Thackery Binx | Tom Sawyer | Huckleberry Finn | Aramis | Athos | D'Artagnan | Porthos | George Knox | Scott Calvin | Charlie Calvin | Shadow | Chance | Sassy | James Henry Trotter | Mr. Centipede | Mr. Grasshopper | Earthworm | Mrs. Ladybug | Miss Spider | The Glowworm | George of the Jungle | Ursula Stanhope | Ape | Phillip Brainard | Sara Jean Reynolds | Mr. Magoo | Nick Parker | Annie James | Nick Parker | Elizabeth James | Mighty Joe Young | Jill Young | Gregg O'Hara | Martin | Inspector Gadget | Penny Gadget | Brain | Dr. Brenda Bradford | Mia Thermopolis | Max Keeble | Megan | Robe | Carol Newman-Calvin | Stanley Yelnats IV | Zero | Captain Jack Sparrow | Joshamee Gibbs | Will Turner | Elizabeth Swann | Hector Barbossa | James Norrington | Jim Evers | Sarah Evers | Madame Leota | Emma | Anna Coleman | Phileas Fogg | Inspector Fix | Ben Gates | Riley Poole | Abigail Chase | Shane Wolfe | Zoe Plummer | Lulu Plummer | Will Stronghold | Layla Williams | Warren Peace | Zach | Ethan | Magenta | Ron Wilson | The Commander | Jetstream | Freeze Girl | Principal Powers | Coach Boomer | Jonathan Boy | Peter Pevensie | Susan Pevensie | Edmund Pevensie | Lucy Pevensie | Aslan | Mr. Beaver | Dave Douglas | Jess Aarons | Leslie Burke | Giselle | Robert Philip | Prince Edward | Pip | Nathaniel | Underdog | Sweet Polly Purebred | Skeeter Bronson | Darwin | Blaster | Hurley | Juarez | Mooch | Bucky | Alice Kingsleigh | Mad Hatter | White Queen | Bandersnatch | Prince Dastan | Princess Tamina | Sheik Amar | Dave Stutler | Balthazar Blake | Balthazar's Eagle | Kevin Flynn | Sam Flynn | John Carter | Troy Bolton | Sharpay Evans | Ryan Evans | Gabriella Montez | Chad Danforth | Taylor McKessie | The Lone Ranger | Tonto | Oscar Diggs | Glinda the Good Witch of the South | China Girl | Maleficent (2014) | Diaval | Aurora (2014) | Prince Phillip (2014) | Knotgrass, Flittle and Thistlewit | The Baker | Cinderella | Rapunzel | Little Red Riding Hood | Cinderella (2015) | Prince Charming (2015) | Anastasia Tremaine (2015) | Mice (2015) | Fairy Godmother (2015) | Jaq and Gus (2015) | Lizard Footmen | Mr. Goose | Casey Newton | Frank Walker | Athena | Mowgli (2016) | Bagheera (2016) | Baloo (2016) | Raksha (2016) | Akela (2016) | The BFG | Sophie | Pete (2016) | Elliott (2016) | Grace Meacham | Mr. Meacham | Natalie Magary | Gavin Magary | Jack Magary | Belle (2017) | Beast (2017) | Maurice (2017) | LeFou (2017) | Lumière (2017) | Cogsworth (2017) | Mrs. Potts (2017) | Chip Potts (2017) | Christopher Robin (2018) | Winnie the Pooh (2018) | Madeline Robin | Evelyn Robin | Eeyore (2018) | Tigger (2018) | Piglet (2018) | Giles Winslow Sr. | Clara Stahlbaum | Phillip Hoffman | Mother Ginger | Mouse King | Dumbo (2019) | Holt Farrier | Milly and Joe Marrier | Max Medici | Colette Marchant | Aladdin (2019) | Jasmine (2019) | Genie (2019) | Magic Carpet (2019) | Abu (2019) | Rajah (2019) | Dalia | The Sultan (2019) | Simba (2019) | Mufasa (2019) | Nala (2019) | Timon (2019) | Pumbaa (2019) | Rafiki (2019) | Zazu (2019) | Sarabi (2019) | Sarafina (2019) | Conall | Borra | King John | Lady (2019) | Tramp (2019) | Jock (2019) | Trusty (2019) | Artemis Fowl | Holly Short | Juliet Butler | Mulch Diggums | Domovoi "Dom" Butler | Foaly | Commander Julius Root | Ivan | Bob | Stella | Ruby | Snickers | Henrietta | Murphy | Frankie | Thelma | Hua Mulan | Commander Tung | Chen Honghui | Yao, Ling and Chien Po | Emperor of China
Other Animated Movies
Br'er Rabbit | Toaster | Blanky | Kirby | Lampy | Radio | Jack Skellington | Sally | Zero | Mayor of Halloween Town | Santa Claus | Valiant | Bugsy | Lofty | Toughwood & Tailfeather | Mercury | Victoria | Wing Commander Gutsy | Sergeant Monty | Charles de Girl | Rollo | Samson | Benny | Bridget | Nigel | Larry | Ryan | Blag | Cloak & Camo | Stan & Carmine | Silvermist | Rosetta | Fawn | Iridessa | Bobble and Clank | Terence | Ebenezer Scrooge | Milo | Gribble | Ki | Milo's Mother | Victor Frankenstein | Sparky | Elsa Van Helsing | Dusty Crophopper | Dottie | Skipper Riley | Sparky | El Chupacabra | Vidia | Lizzy | Periwinkle | Zarina | Gruff | Marianne | Dawn | Sunny | Bog King
Sequels
Ethan Dalloway | Cassim | Angelique | Fife | John Rolfe | Uttamatomakkin | Kiara | Kovu | Vitani | Ratso | Murgatroid the Snake | Melody | Tip and Dash | Sylvia Marpole | Scamp | Angel | Baker | Madellaine | Zephyr | Prudence | Jane | Ranjan | Messua | Ranjan's Father | Sparky | Reuben | Thunderbolt | Lars | Ting-Ting, Su, and Mei | Zugor | Cash | Atka | Dixie | Granny Rose | Waylon and Floyd | Queen Athena | Blade Ranger | Maru | Windlifter
Shorts, TV Shows, Comics and Video Games
Pete | Oswald the Lucky Rabbit | Mickey Mouse | Minnie Mouse | Horace Horsecollar | Pluto | Goofy | Donald Duck | Daisy Duck | Ludwig Von Drake | Scrooge McDuck | Huey, Dewey, and Louie | Mortimer Mouse | Chip and Dale | Max Goof | Gladstone Gander | Fethry Duck | Gruffi Gummi | Zummi Gummi | Grammi Gummi | Cubbi Gummi | Sunni Gummi | Tummi Gummi | Gusto Gummi | Cavin | Princess Calla | King Gregor | Sir Tuxford | Sir Gawain | Sir Victor | Princess Marie | Aquarianne | Kessie | Wooster | Nasty Jack | Bruno | Gyro Gearloose | Launchpad McQuack | Webby Vanderquack | Bentina Beakley | April, May and June | Darkwing Duck | Gosalyn Mallard | Monker Muddlefoot | Mona | Morgana Macawber | Pistol Pete | Peg Pete | P.J. | Kit Cloudkicker | Rebecca Cunningham | Chiro | Jinmay | Cassandra | Lance Strongbow | Adira | Varian | Kiera and Catalina | Gabriella | Spot the Killer Whale | Urchin | Sora | Kairi | Riku | Aqua | Terra (Lingering Will) | Ventus | Organization XIII | (Axel | Xion | Roxas | Vexen) | Lea | Ienzo | Zak William Lake | Lauriam | Elrena | Strelitzia | Naminé | Riku Replica | Ansem the Wise | Master Eraqus | Spirit Dream Eaters | Data-Naminé | Data-Riku | Data-Roxas | Data-Sora
See Also
101 Dalmatians Heroes | 20th Century Studios Heroes | Aladdin Heroes | Amphibia Heroes | Atlantis Heroes | Big Hero 6 Heroes | Buena Vista International Heroes | Buzz Lightyear of Star Command Heroes | Cars Heroes | Disney Fairies Heroes | Disney Junior Heroes | Disney Prince | Disney Princesses | DuckTales Heroes | Fish Hooks Heroes | Frozen Heroes | Gargoyles Heroes | Gravity Falls Heroes | Hercules Heroes | Incredibles Heroes | Kim Possible Heroes | Kingdom Hearts Heroes | Lilo & Stitch Heroes | Luca Heroes | Marvel Cinematic Universe Heroes | Milo Murphy's Law Heroes | Mulan Heroes | Muppet Heroes | Narnia Heroes | Onward Heroes | Peter Pan Heroes | Phineas and Ferb Heroes | Pirates of the Caribbean Heroes | Pixar Heroes | Ratatouille Heroes | Raya and the Last Dragon Heroes | Recess Heroes | Soul Heroes | Star Wars Heroes | Star vs. the Forces of Evil Heroes | Tarzan Heroes | The Hunchback of Notre Dame Heroes | The Jungle Book Heroes | The Lion King Heroes | The Little Mermaid Heroes | The Owl House Heroes | Toy Story Heroes | Treasure Planet Heroes | Wander Over Yonder Heroes | Winnie the Pooh Heroes | Wreck-It Ralph Heroes | Zootopia Heroes
Community content is available under
CC-BY-SA
unless otherwise noted.