✔
This Hero was proposed and approved by Heroes Wiki's Pure Good Proposals Thread. Any act of removing this hero from the category without a Removal Proposal shall be considered vandalism (or a "villainous" attempt to demonize said character) and the user will have high chances of being smitten blocked. You cannot make said Removal Proposal without permission of an administrator first.
For this character's pony counterpart, see Rarity.
| | | |
| --- | --- | --- |
| " | That's a book, darling | " |
| | ~ Rarity | |
| | | |
| --- | --- | --- |
| " | The five of us are obviously very different, but deep down, we're all Canterlot Wondercolts! Sunset Shimmer is the one who divided us, Twilight Sparkle is the one who united us. And we're gonna let everyone know it!" | " |
| | ~ Rarity (EG) | |
Rarity's human counterpart appears in the My Little Pony Equestria Girls film series. She is a very beautiful and fashionable student at Canterlot High School and keytarist for the Rainbooms. She is one of the five deuteragonists of My Little Pony: Equestria Girls, one of the five main protagonists of Rainbow Rocks, one of the five tritagonists of Friendship Games, and Legend of Everfree, one of the seven main protagonists of the Equestria Girls miniseries, the specials, and the Summertime Shorts, and a major character in the digital series..
Personality
Like her pony counterpart, Rarity is very generous and has a keen eye for fashion. She disguises Twilight to hide her from the CHS students' ridicule, and she comes up with the idea of handing out pony ears and tails. Rarity also likes doting on the dragon-turned-puppy Spike, finding him "so adorable" and letting him sleep in her lap at the Sweet Shoppe.
Rarity's generosity and love for fashion carry over into the second and third films as well. In Rainbow Rocks, she greatly concerns herself with making a good stage impression, and in Friendship Games, she says putting effort into clothes and spending time on my friends are what she lives for.
Rarity also has a bit of a fascination with royalty, as she is excited to learn that Twilight Sparkle is a princess and has her own castle.
Appearance
The human version of Rarity has white skin, purple hair, with three cut-out blue diamonds and dark blue eyes (eyes are light blue shadows) with long lashes and roving eyebrows. She originally wore a blue elbow-sleeved blouse, a purple skirt with her pony counterpart's cutie mark, a tense purple belt buckle and purple boots in a high wedge heel, which tops are covered with a single Diamond and yellow gold bracelets on both hands.
In the Digital Series, Rarity wears a blue sleeveless tank top with a frilly detail on the bottom, a new purple skirt, gold bracelets and purple high heel shoes with the cutie mark on them.
Description in Films
My Little Pony Equestria Girls
In My Little Pony Equestria Girls, Rarity first appears after Sunset Shimmer ruins Twilight Sparkle's image at Canterlot High with an online smear video. Rarity pulls Twilight into an empty classroom and gives her a disguise.
Rarity and the rest of Twilight's new friends are later revealed to have been driven apart by Sunset Shimmer; she is particularly bitter toward Pinkie Pie. When Twilight helps the five reconcile their differences, they help her get voted Princess of the Fall Formal. Rarity comes up with the idea of rallying the students by encouraging them to wear the Canterlot Wondercolts' pony-eared headbands and tie-on pony tails.
When Sunset puts on Twilight's crown and transforms into a "raging she-demon", Rarity briefly channels the of generosity and gains pony-like attributes.
Equestria Girls: Rainbow Rocks
In Rainbow Rocks and its tie-in animated shorts, Rarity plays keytar in her friends' band, the Rainbooms. She first appears helping her friends make a poster for the CHS Musical Showcase, which she describes as "eye-catching". During a Rainbooms rehearsal, she helps comfort the reformed Sunset Shimmer by saying that she and her friends have forgiven her for what she refers to as Sunset's "past booboos." She is the first to openly talk about how she and the others gain pony ears and a longer ponytail whenever they perform.
Throughout the film and the duration of the Battle of the Bands, Rarity mostly concerns herself with the band's stage costumes, putting at heated odds with Applejack. When Sunset helps the Rainbooms patch things up, Applejack asks Rarity to provide the costumes for their big "Save the School" performance, and Rarity is more than happy to oblige.
Equestria Girls: Friendship Games
Rarity appears again in Friendship Games, competing in the games against Crystal Prep Academy as part of Canterlot High's Wondercolts team. She participates in the Academic Decathlon, passing the baking contest but failing the spelling bee after misspelling "estuary". She is paired up with Pinkie Pie during the speed skating portion of the Tri-Cross Relay.
Rarity designs an excess of costumes for her friends wear during the games. She ponies up as a result of this burst of generosity, luring the human world's version of Twilight Sparkle to them as she follows her magic-detecting device, which drains Rarity of her magic. She later regains her magic to empower Sunset Shimmer and return Twilight to normal after she is transformed into Midnight Sparkle.
Equestria Girls: Legend of Everfree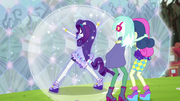 In the fourth Equestria Girls film, Rarity goes with her friends and classmates to Camp Everfree, where she expresses a desire to put on a big fashion show. At Camp Everfree, she is paired with Pinkie Pie in the Emerald Tent. While at the camp, Rarity's magic undergoes a dramatic change, and she develops the ability to project transparent diamond-shaped shields.
Throughout the film, Rarity helps her fellow Wondercolts build a new dock for Camp Everfree as part of their "gift for future campers", all while organizing her fashion show. When camp director Gloriosa Daisy is consumed by Equestrian magic and Twilight Sparkle overcomes her fears of Midnight Sparkle, Rarity helps her friends defeat Gloriosa. She also assists in saving Camp Everfree from closing by organizing a Crystal Ball fundraiser.
External Links
Rarity (EG) on the Pure Good Wiki
Heroes
Heroes
My Little Pony 'n Friends
Applejack | Baby Cotton Candy | Baby Cuddles | Baby Glory | Baby Lickety-Split | Baby Lofty | Baby Moondancer | Baby Ribbon | Baby Shady | Baby Sundance | Baby Surprise | Bow Tie | Bubbles | Buttons | Cotton Candy | Cupcake | Danny Williams | Drog | Ember | Firefly | First Born | Fizzy | G'nash | Garth | Glory | Grandpa Ruff | Gusty | Habbit | His Elevated Eminence | Kyrie | Lickety-Split | Magic Star | Majesty | Mayor Camembert | Megan Williams | Medley | Molly Williams | Moochick | Moondancer | Morning Glory | North Star | Paradise | Pluma | Posey | Powder | Prince Edgar | Rep | Ribbon | Rosedust | Scorpan | Sea Ponies | Skydancer | Sludge | Sparkler | Spike | Squire Alonzo | Starflower | Sting | Sundance | Surprise | Sweet Stuff | The Bushwoolies | The Crabnasties (Captain Crabnasty) | The Dell Dwellers | Furbobs | The Grundles (King Hugo) | The Sheriff of Muensterville | The Stonebacks | Twilight | Wind Whistler | Woebegone

Generation 3
Pinkie Pie | Rainbow Dash | Scootaloo | Cheerilee | Toola-Roola | Sweetie Belle | StarSong | Flitter Flutter | Twinkle Wish | Whimsey Weatherbe | Minty | Spike | Rarity | Kimono | Star Catcher | Skywishes | Thistle Whistle | Coconut Grove | Sweetberry | Cotton Candy | Sparkleworks | Sunny Daze | Wysteria | Razzaroo | Daffidazey | Fiesta Flair | Lily Lightly | Storybelle | Star Flight | Heart Bright

Friendship is Magic
Main
Twilight Sparkle | Spike | Applejack | Rainbow Dash | Pinkie Pie | Rarity | Fluttershy

Secondary
Princess Celestia | Princess Luna | Cutie Mark Crusaders (Apple Bloom, Sweetie Belle & Scootaloo) | Discord | Princess Cadance | Shining Armor | Starlight Glimmer | Young Six (Sandbar, Gallus, Silverstream, Smolder, Ocellus, and Yona)

Other
Autumn Blaze | Angel Bunny | Big Macintosh | Braeburn | Bright Mac | Bulk Biceps | Chancellor Neighsay | Changelings (Thorax & Pharynx) | Cheerilee | Cheese Sandwich | Coco Pommel | Daring Do | Derpy Hooves | Filthy Rich | Flash Sentry | Flurry Heart | Gilda | Granny Smith | Gummy | Gusty the Great | King Sombra | Little Strongheart | Luster Dawn | Maud Pie | Mare Do Well | Pear Butter | Pillars of Old Equestria (Star Swirl the Bearded, Flash Magnus, Rockhoof, Somnambula, Mage Meadowbrook, and Mistmane) | Princess Ember | Prince Rutherford | Quibble Pants | Scorpan | Seabreeze | Sky Beak | Smooze | Snips and Snails | Steven Magnet | Sunburst | Sweetie Drops | Tank | Terramar | Trixie Lulamoon | Trouble Shoes Clyde | The Wonderbolts (Spitfire & Soarin) | Zecora

Equestria Girls
Main
Twilight Sparkle | Sunset Shimmer | Applejack | Rainbow Dash | Pinkie Pie | Rarity | Fluttershy

Other
Dean Cadance | Flash Sentry | Gloriosa Daisy | Indigo Zap | Kiwi Lollipop | Lemon Zest | Micro Chips | Principal Celestia | Sour Sweet | Spike | Sugarcoat | Sunny Flare | Supernova Zap | Timber Spruce | Vice Principal Luna | Wondercolts

Make Your Mark
Main
Sunny Starscout | Izzy Moonbow | Hitch Trailblazer | Zipp Storm | Pipp Petals

Movies
My Little Pony: The Movie (1986): Megan Williams | Molly Williams | Danny Williams | Baby Lickety-Split | Spike | The Grundles | Baby Lofty | Baby Sundance | Buttons | Fizzy | Gingerbread | Gusty | Magic Star | Morning Glory | North Star | Rosedust | Shady | Sundance | Sweet Stuff | Sea Ponies | Wind Whistler
My Little Pony: The Movie (2017): Twilight Sparkle | Spike | Applejack | Rainbow Dash | Pinkie Pie | Rarity | Fluttershy | Capper | Captain Celaeno | Princess Skystar | Queen Novo | Tempest Shadow | Princess Celestia | Princess Luna | Princess Cadance
My Little Pony: A New Generation (2021): Sunny Starscout | Izzy Moonbow | Hitch Trailblazer | Zipp Storm | Pipp Petals | Argyle Starshine | Phyllis Cloverleaf | Queen Haven | Alphabittle Blossomforth