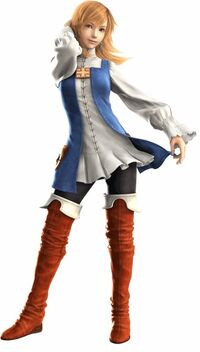 Refia is a playable character from the 3D remake of Final Fantasy III.
Appearance
Refia has ginger hair and red eyes. Her Freelancer outfit is a white long-sleeved blouse with a blue vest, black leggings, and thigh-high boots. Refia's theme color is blue, shown in her Job armor. Although most of her outfits are the same as the others', a few, like Summoner, are feminized. Her cross-shaped brooch is used to distinguish her Job outfits from her allies'. Refia sports various hairstyles among ranging from braids to ponytails, or pigtails. In the opening FMV, she is depicted as a White Mage.
Personality
Refia is described by Doga and Unei as the light of affection. As the sole female of the party, Refia is more of a motherly character than a love interest, and scolds her companions for their unruly behavior, like Desch's crushes on other women despite being faithful to Salina, or even Luneth's casual behavior when meeting Sara Altney and Aria Benett. Refia does have a rebellious streak, what with her habit of escaping her father's blacksmith training, but deep down she cares for him and is at first torn between joining her allies, or staying in Kazus.
External links
Community content is available under
CC-BY-SA
unless otherwise noted.