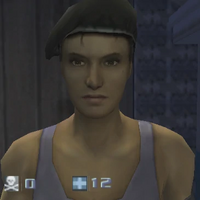 Regina is a heroine in 007 video game Everything or Nothing. A co-op mode, Field operative, and one of the three protagonists (alongside Suggs, Lotus and Feng) for the missions.
History
She and her colleagues must solve three missions in the game:
the first takes place in an isolated area of Tunisia near the Gulf of Gabes, where they have to look for an individual called M. Saffo. They manage to enter her secret base and deactivate all the explosives in the building. Shortly after, however, they are discovered by Sappho and attacks him with a missile launcher, but the agents manage to kill him by blowing up his base and I manage to escape just in time.
The second mission is located in the Andaman Sea, which must stop an expert in the field of nano-lasers, Dr. Lazarus Beam. They infiltrate its base to get as much information as possible, disable the two nanolaser generators, and escape before the facility explodes.
The third and final mission finally takes place in Egypt, where they must help James Bond get into the nanotechnology center, to plant the explosives. After placing them, they meet up with Bond again and have to find the exit.