Click To Help Kirby!

This stub is making Kirby hungry with its lack of substance.
This article or section is a stub. You can help the Heroes Wiki by expanding it!

What are you waiting for? GO!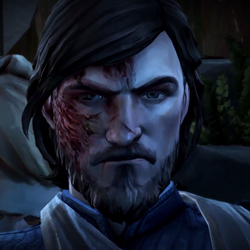 Rodrik Forrester is one of the five main playable characters in the Point and Click Game, Game of Thrones. Rodrik is the protagonist in the ironrath storyline. Rodrik is current head of House Forrester, a noble house serving under House Glover, and Lord of Ironrath.
Biography
TBA
Game Codex
Rodrik was trained from a young age to take on the burden of leadership. He's a man built for the position, a formidable presence both on and off the battlefield—but when Robb Stark called his banners to war, Rodrik was asked by his father to stay and protect their home, Ironrath. Rodrik refused, riding out into battle with his father and leading the Forrester army into battle with such force that he is now feared among the Lannister soldiers.
Trivia
Rodrik is the oldest character out of the five protagonists.
Rodrik replaced Ethan Forrester as the main character of the Ironrath storyline.
Rodrik is the second playable lord in the game.
Gallery
Community content is available under
CC-BY-SA
unless otherwise noted.