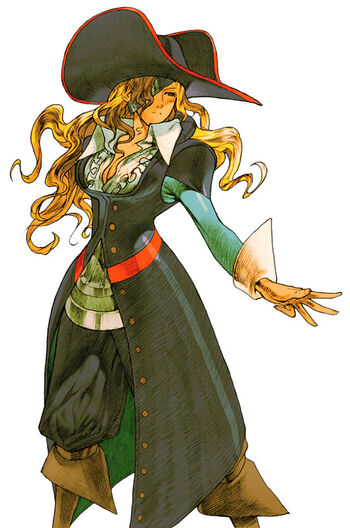 Ruby Heart (or Rubyheart) is an original character by Capcom and one of the main protagonists along with Cable in Marvel Vs Capcom 2: New Age Of Heroes.
She was voiced by Atsuko Tanaka.
Story
She is a mysterious French-speaking pirate who prefers heroic actions and generally sides with the "good guys", in contrast to many other pirates. Ruby Heart sails with her crew in her very own flying ship that she can use to aid her in combat. Outside her ship, Ruby is an experienced hand-to-hand fighter and employs weapons such as her signature anchor and sabres, or tricks like a haunted chest with a hostile ghost within.
When something begins to kill off life on Earth, Ruby Heart and her crew begins to investigate it, linking the destruction with the evil Abyss, the ancient Armor of Erosion. Unable to defeat Abyss alone, Ruby assembles the strongest heroes from the Marvel and Capcom universes. The assembled army of heroes track down Abyss and discover its power source; a black sphere in its center. After Abyss is defeated, the sphere was cracked and drained of power. Hoping to sell the sphere for profit, Ruby stared into the destroyed orb. Dismayed at it's current worthlessness, she cast it into the sea.
Trivia
Capcom producer Yoshinori Ono stated once in an interview that Ruby Heart was a rejected concept character of the Darkstalkers series.