Arcane: League of Legends - The Loop
Play Sound
"ChangeMermaid!"
Sayaka Nagisa (渚 さやか) is ChangeMermaid of the Changemen. She is the first female White Ranger in Super Sentai history.
Biography
Changeman
Sayaka is the genius of the Earth Defense Force and a sticker to etiquette and manners. She's a motherly type and like Tsurugi, tends to get involved emotionally in her missions. Likewise, Sayaka usually teams up with Mai.
As ChangeMermaid, she is armed with the Change Sword and Mermaid Zooka, which becomes the scope for the Power Bazooka. Due to its size, the power of the Mermaid Zooka itself is weaker than the rest. Her unique combat attribute is the grace of her movements, while anticipating her opponents next move with her intelligence, often being able to discover her opponent's weak points. Copilots Helichanger 2 with Griffon.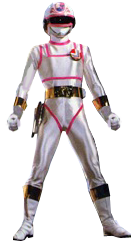 ChangeMermaid
Mecha
Shuttlebase (shared with Dragon, Griffon, Pegasus, and Phoenix)
Helichanger 2 (shared with Griffon)
Arsenal
Change Brace
Change Sword
Mermaid-Zooka
Auto Changer
Jet Skis
Gallery