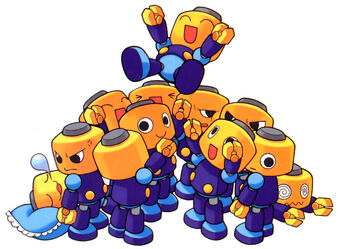 The 
Servbots
, known as 
Kobun
 (コブン) in Japan, are 41 small all-purpose support robots from the 
Mega Man Legends
 series created by Tron Bonne, each with its own distinct personality and talent. They are henchmen loyal to the Bonne family of air pirates and are the crew on board the Gesellschaft. They work in several tasks like piloting the Gesellschaft and fighting machines used in missions, cleaning, cooking, help Tron build and repair machines, among others in their schedule. Although Tron built forty Servbots, forty-one of them exist, with the origin of the forty-first Servbot being unknown to her. Their cute appearance is useful in avoiding suspicion.
The Servbots have childlike personalities and love Tron as a mother, but often get in trouble for their mistakes, and she punishes them severely when they goof off. The Servbots are somewhat cowardly, timid, and unreliable, but they are also steadfast and hard-working, always trying their best to the Bonne family.
Due to their small size, they aren't very strong physically, but in the Nakkai Desert they are shown to be strong enough to lift a boulder of their size and hold it for a few seconds before letting it fall on them. They have great endurance, being able to survive several dangers like flames, spikes, and large explosions, but they aren't indestructible. In Marvel vs. Capcom 2: New Age of Heroes, the playable Servbot will release smoke as he gets damaged, and when defeated he explodes and releases small Refractors. Their maintenance and repairs are performed by Tron. Although they are robots, the Servbots have olfaction and taste, and most of them are good at cooking. Their favorite food is curry rice.
Community content is available under
CC-BY-SA
unless otherwise noted.