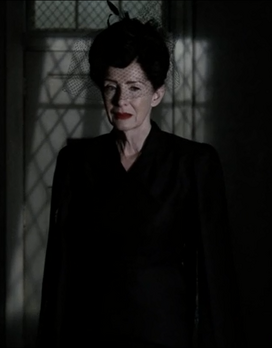 Shachath (pronounced ʃaħat or shah-_CH_ath) also known as "The Angel of Death") is a character. She is a character in American Horror Story: Asylum portrayed by Frances Conroy. Her name means "to destroy or ruin".
Background
Not much is known about Shachath. She only appears when she is called and gives those who call "the kiss of death" when they're ready and is portrayed almost like a "Grim Reaper". Sister Mary Eunice seems to be quite nervous when she encounters her after witnessing the kiss of death being given to a Briarcliff inmate known as Miles (who appears to have summoned her). She has appeared to Grace Bertrand, Lana Winters, Sister Jude, and Timothy Howard.
Appearance
She appears in classic 1940's black attire. She wears a veil which covers her eyes, and when she performs the kiss of death, two large black wings appear from her back.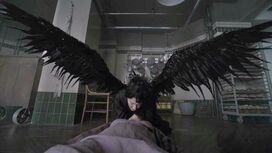 Community content is available under
CC-BY-SA
unless otherwise noted.