✔



Click To Help !

Whatever life holds in store for me, I will never forget these words: "With great power comes great responsibility."

Spider-Man has declared that this article is still under construction.
Please don't delete or edit this article yet because it may contrast with the original author's edits.
After I finish this article, the world will be saved!
Shazzan is a giant anthropomorphic genie who is the protector of Chuck and Nancy. He is one of the starring characters in the 1967 Hanna Barbera series of the same name.
Shazzan is summoned when his two pieces of his ring are put together. He gives Chuck and Nancy a winged camel named Kaboobie for transportation. Shazzan fights his enemies usually when Chuck and Nancy are in danger. Shazzan is usually an immortal genie, but usually defeats his enemies right in time. When Chuck and Nancy are in trouble, the duo puts his two pieces of his ring to rescue him. Shazzan cannot return home unless Chuck and Nancy give back his ring.
Sample of Shazzan fighting an enemy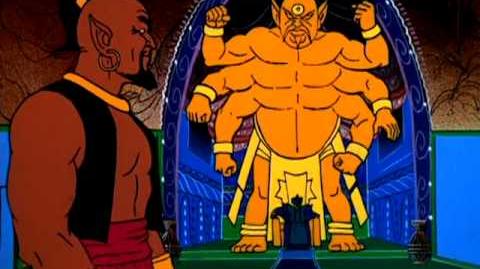 Community content is available under
CC-BY-SA
unless otherwise noted.