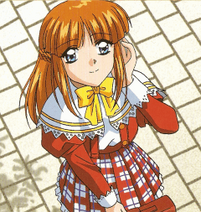 Sophia Robelingue is a heroine of Mitsumete Knight.
Personality (Original)
Dolphan school and enrolled in high school. Docile personality owner of. I like singing the, it is dreaming to stand on the stage. Because the parents are in debt, it is engaged to Joan. I'm worried about the father of boozy. When it comes to summer vacation, not so much a girl direction, to start a part-time job is in the hard work workplace. The middle, but entering the theater company as a trainee in response to the audition, and been involved in bomb terrorism would hurt the throat. No one is so much friends, it is going to become the Raizze and friends summon the courage in the CD drama. One of the heroine with a dedicated ending song.
Personality (R)
Quietly, singing the favorite girl. We have worked with Kakemochi a part-time job, a deep knowledge of income and social security. My father was a knight leader, I have retired with injury. Weapon sword. Attack power is low, but I remember a lot of recovery magic. You can buy an item is two discount until the second half when the cause of her events. For girls of gentle good-natured personality, but generally almost all of the girl and the relationship is good, living environment is completely different from Linda, and personality is hated from the opposite Raizze. Smooth and easy to promote the game when the fellow in the first play.
Gallery
External link
Community content is available under
CC-BY-SA
unless otherwise noted.