Raise a Floppa - The Loop
Play Sound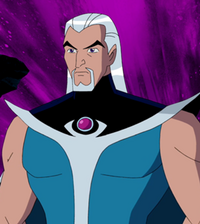 Spellbinder was a powerful sorcerer with a great love for his family and a high sense of morality.
History
Background
Although little is known about Spellbinder's life, some key facts are revealed in the episode Where the Magic Happens. When Charmcaster was as young as nine years old, Spellbinder fought against Adwaita and allowed Hex and Charmcaster to escape safely to Earth. He was immensely powerful because when Adwaita is hurt by Charmcaster, he is surprised but claims it to be immense magical mystical power inherited from Spellbinder. Despite being enemies from this, it is clear that Adwaita still retained a level of respect for Spellbinder's power even after defeating him (although this did not stop him from using a projection of the late Spellbinder's voice to try and persuade Charmcaster to step from a ledge into a mystic sink hole). His sacrifice is still an emotional issue for Charmcaster, angering her to talk to Gwen about it and crying when hearing his voice for the first time in years.
Ultimate Alien
He appeared in Enemy of My Frenemy, when Charmcaster resurrected him with 600,000 living souls. When he learned of Charmcaster's evil-doing to bring just him back, he revealed he died not to save her from Adwaitya but from Ledgerdomain as a whole and its corrupting influence in hopes of giving her a chance at a normal life. He was also revolted at the thought of countless others being sacrificed just to bring him back to life. He tells his daughter he loves her and is sorry he wasn't there for her when she needed him in her life, but he cannot stay in the world of the living. He then returned to the dead and returned all the 600,000 souls of Ledgerdomain back to life again. Charmcaster fell into depression after this event, seeking to fill the void left in her life first with her boyfriend, Michael Morningstar, and then through more power. Despite these troubles, Charmcaster still cherishes her father's memory, proudly announcing herself as "daughter of Spellbinder" to Zs'Skayr.