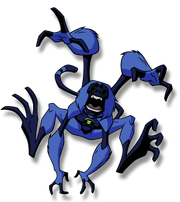 Spidermonkey is the Omnitrix's DNA sample of an Arachnichimp from the planet Aranhaschimmia.
Appearance
Powers and Abilities
Web Generation: Spidermonkey can shoot webs from his tail and his webs are strong as steel.
Sticky Fur: Spidermonkey's fur allow him to stick and climb walls and surfaces.
Enhanced Strength: Spidermonkey possesses superhuman strength.
Enhanced Agility: He possesses superhuman agility as he is agile and can move fast.
Enhanced Acrobatics:
Enhanced Hearing:
Enhanced Reflexes:
Gallery
Community content is available under
CC-BY-SA
unless otherwise noted.