Click To Help Kirby!

This stub is making Kirby hungry with its lack of substance.
This article or section is a stub. You can help the Heroes Wiki by expanding it!

What are you waiting for? GO!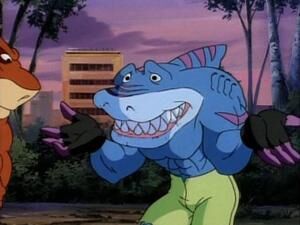 Streex is a mutant tiger shark from Street Sharks.
Streex is one of the brothers who is a cool and self proclaimed ladies' man. He's seen everywhere wearing his rollerblades and appears to enjoy extreme sports like parachuting and snowboarding. Later on, he demonstrates the ability to play drums professionally. When he is transformed into Streex, he becomes a tiger shark. He gets his name from the purple streaks on his body. In the pilot movie (eventually to be episodes 1-3), he was originally called "Blades" due to his skills as a rollerblader.