Fire Emblem Warriors: Three Hopes - The Loop
Play Sound
Takeru​, also known as Red Mask, is the main protagonist of Hikari Sentai Maskman. He is a leader of the Maskmen and the estranged lover of the Underground Empire Tube's Princess Ial.
Description
Takeru is the 23-year-old leader of the group who fights as Red Mask. He is a specialist in karate and a Formula One driver. He was spotted by Sugata a year prior to the beginning of the series while he saved the mother's infant from being crashed in the railway. Sugata later offered him a spot on the Maskman team. His love for Mio and desire to find her are his motivations. While in Otaki, Takeru meets Norio through whom he masters the "God Hand" technique. Igam tries to eliminate him by travelling into the past. Near the end of the series, he single-handedly defeats Baraba out of rage in battle. He reunites with Mio in the end but he is forced to split up with her.
Personality and Traits
At the age of 23, Takeru became the leader, as well as he is proficient in karate and a Formula One driver.
Takeru wasn't always a role model as he is today. As a child, he used to be bratty, naughty, often getting punished for misconduct and always fearing retribution. He planned to leave Japan, but was interrupted by a mysterious man who told him that he was actually just running away from his insecurities. At the man's urging and the fact that the man and four other people transformed into superheroes to save him, little Takeru was inspired and abandoned his plans to leave Japan, attempting to face his problems head-on like a man. This mysterious man is later revealed to be Takeru himself from the future, although as he fixes his image, Takeru became so embarrassed with it that if anyone asked, he'll cover it up by telling that he's actually a model student envied by everyone else.
One night, a grown-up Takeru rescued a woman and a child from a robber. This action was spotted by Commander Sanjuro Sugata and he subsequently challenged him to a fight. Takeru was thoroughly beaten despite having learned Karate, but he refused to give up. His determination impressed Sugata and he offered him to lead the Maskmen and become Red Mask. With his mood lightened, Takeru accepted this offer.
Red Mask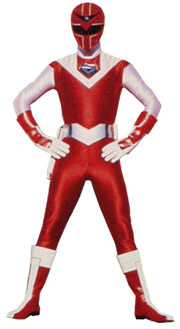 Mecha
Turbo Ranger (shared with Black, Blue, Yellow, and Pink)
Masky Fighter
Land Galaxy / Galaxy Robo (shared with Black, Blue, Yellow, and Pink)
Arsenal
Masking Brace
Laser Magnum
Masky Blade
Jet Cannon
Spin Cruiser
Techniques
Meditation Gesture: Zai (Opened hands with index finger and thumb together), which signifies control over natural forces.
God Hand - a technique focusing immense concentrations of Aura Power on the fists. Used in Episode 6 on Drilla Doggler and in Episode 27 on Thief Knight Kiros.
Red Mask once performed a Rider Kick with Kamen Rider Black to defeat Shadow Moon and General Jark, who were imobilized by the other four Maskmen's meditation techniques.
Gallery
Images
Trivia
He is an homage of

Kazuya Ryusaki

from Tosho Daimos.