Team Umizoomi is a miniature superhero team and the titular protagonists in the Nick Jr. animated series of the same name.
Members
Milli (voiced by Sophia Fox (season 1) and Madeline Rose Yen (seasons 2–4) – A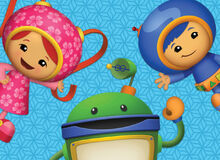 girl who is Geo's younger sister who has abilities related to patterns and measuring. If, while on an adventure, it is necessary to complete the next element in a pattern in order to accomplish something, Milli can change her pink dress to any pattern and can then project that pattern by singing "Pattern Power". Her ponytails can be used to measure things, which is initiated by singing "Milli Measure". She is 6 years old.
Geo (voiced by Ethan Kempner (seasons 1–3) and Juan Mirt (season 4) – A boy who is Milli's older brother who travels everywhere on his Super Skates while wearing a blue helmet and shirt. He has abilities related to geometric shapes and wears a Shape Belt that can create objects by assembling shapes and then singing "Super Shapes". Often when Team Umizoomi is stuck and needs some type of vehicle to assist them Geo will figure out what they need, present a blueprint for the vehicle needed, and then interact with the child viewer to assemble shapes needed to fill in the blueprint. He also has a Shape Magnet to help him find shapes through obstacles and a Shape Splitter to help him split shapes. He is 5 years old.
Bot is a green robot and friend of the siblings who likes to sing and dance with a fun-loving, childlike personality. His abilities are more functional than math-related. His arms and legs can be extended to reach things, by saying "Arms Extendo" or "Legs Extendo" and sometimes "Jaw EXTENDO!". He has a small receiver (like a satellite dish) on his head to receive calls (called the Umi Alarm). He also has a screen on the front (called a "Belly Belly Belly Screen" stylized as "Belly Belly, Belly Screen!") that they can view videos/pictures on as well as have a video call with someone who needs their help. He also has a storage compartment on the back of his body, called a Bot-o-mat, which frequently is carrying whatever the team happens to need. In each episode, he is introduced, usually by Milli, as their "Best Robot Friend."
Community content is available under
CC-BY-SA
unless otherwise noted.