✔



Click To Help !

Whatever life holds in store for me, I will never forget these words: "With great power comes great responsibility."

Spider-Man has declared that this article is still under construction.
Please don't delete or edit this article yet because it may contrast with the original author's edits.
After I finish this article, the world will be saved!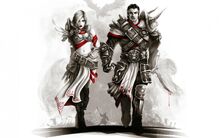 The Source Hunters are the heroes of the Larian Studio videogame Divinity: Original Sin.
They are members of a group in the world of Rivellon dedicated to find and destroy a dangerous type of magic called Source.
While investigating a murder in the town of Cyseal, the Source Hunters stumbled upon a Star Stone and they were teleported in the dimension at the end of time, where they meet the Weaver of Time and her assistant Zixzax who tells the heroes about the cosmic threat of a dragon-like creature known as the Void Maelstrom.
The Weaver of Time tasks the Source Hunters into finding the Star Stones and defeat the Void.
History
At the start of the game, the Source Hunters receive orders to investigate the murder of a town councilor by a suspected Sourcerer in Cyseal, a port town in southern Rivellon. Upon arrival, they find Cyseal under siege by orcs and undead and soon discover that it was orchestrated by a Sourcerer conspiracy linked to the Immaculates, a cult based in the Luculla Forest further inland. They also find evidence implicating the White Witch, guardian of the Luculla Forest, in the murder. Their search for her takes them to the fairy realm of Hibernheim, where they find her trapped in a block of ice by the Immaculates' leader, the Conduit. Upon being freed, she introduces herself as Icara and pleads guilty of accidentally killing the councilor, but the Source Hunters, having uncovered evidence of Sourcery, mass murder, and human sacrifice carried out by the Immaculates, choose to ally themselves with her against the common foe.
Throughout the game, the Source Hunters occasionally encounter magical crystals known as "Star Stones" (some of them transformed into "blood stones" by the Immaculates' sacrifices). Upon finding the first one, they are transported to the "Homestead", a mysterious fortress outside of regular spacetime that is immediately familiar to both of them. As they recover more Star Stones, they learn from them that the Source had originally been a benevolent magic associated with Astarte, the goddess of life, before it was corrupted by the Void, an evil force from outside of the material world. The Source Hunters themselves are revealed to be reincarnations of two ancient generals, a man and a woman, who imprisoned the Source corruption inside an artifact known as "the God Box" and were granted godlike powers to guard it.
Community content is available under
CC-BY-SA
unless otherwise noted.