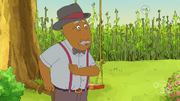 Theodore Read, also known as "Theo," is a character from the Arthur special, "The Rhythm and Roots of Arthur". He is voiced by Roy Lewis.
Biography
When David takes D.W. to meet Granduncle Theo, who is going to turn eighty-five the next day, she learns that she was named after his sister. D.W. and Theo decide to stick together since there are no other people in their respective age groups.
Later, D.W. and Theo play horseshoes together as Arthur and Buster decide to go swimming. Then they talk about Grandaunt Dora, who had a similar character to D.W. He shows D.W. a photograph where he and Dora are holding soda bottles. After breakfast, Theo gives D.W. a lizard catcher made out of a flower pot and a piece of cardboard.
On Theo's birthday, the family gives Theo their presents except for Buster since he lost his present in his bag. He decides to pick some flowers and put them in the old soda bottle that he found under the bed. Theo is so delighted because the bottle reminds him of his childhood as he dubs Buster an honorary member of the family.
In the end, Miles sings a family song titled "At This Table to Theo when Jane and Kate arrived.