Raise a Floppa - The Loop
Play Sound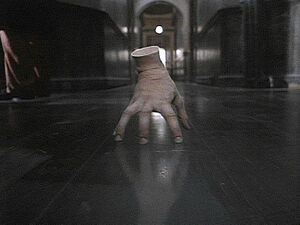 Thing is a bodyless hand who is The Addams Family's servant. He communicates to the Addamses through sign language. In the original series especially he seems to be able to appear through a drawer or box at any given time, and give any of the Addams items (mail, tissues etc.) that they seem to need at that moment. Later in the films along with using sign language to communicate also uses morse code.
Role
Among Thing's many useful roles are fetching the mail, handing cigars to Gomez Addams and then lighting them, changing the channel on the Addams TV set, holding Morticia Addams's wool while she knits, turn grapes into wine under a single minute, and turning over records on the phonograph (particularly when Gomez and Morticia dance the tango). He accompanies the family on drives by riding in the glove compartment, and in one episode, where Gomez appears in court, he emerged from Gomez's briefcase. Thing and Grandmama are fond of arm-wrestling. In a flashback episode on how Gomez and Morticia met, it is revealed that Thing has been with the Addams family since Gomez himself was a child, suggesting Thing is the son of an earlier generation of hand-servants (see below).
Morticia is always very appreciative of Thing's services, and her frequent "Why thank you, Thing" is one of the best known lines of the series. Being only a hand, Thing cannot talk, but he does sometimes snap his fingers to attract attention, and is also able to communicate by signaling in Morse code, writing, or with the help of the manual alphabet. This can be very disconcerting to visitors to the Addams' mansion; in a running gag in some episodes, a visitor to the Addams home, profusely grateful for some kindness of the Addamses', enthusiastically shakes hands with everyone present---"Thank you, Mr. Addams! Thank you, Mrs. Addams!"---and is then offered a handshake by Thing. "And thank you---" begins the visitor, before realizing who and what he has been confronted with, recoiling in inarticulate shock, and fleeing the premises.
In one episode, Morticia gets goosed, initially suspecting Thing, who had been nearby moments earlier. However, Gomez immediately appears and admits responsibility, explaining: "Thing just likes to hold hands."