Raise a Floppa - The Loop
Play Sound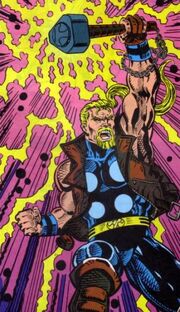 Thunderstrike (real name Eric Masterson) is a superhero appearing in comic books published by Marvel Comics.
Beginnings
Eric Masterson was a humble architect who stumbled upon a fight between Thor and the Mongoose, who was using a new high tech laser which had proven dangerous even to Thor. When Mongoose stood over Thor and was about to deliver the killing blow, Eric grabbed Thor's hammer, Mjolnir, without thinking and charged at Mongoose. Unimpressed, Mongoose proceeded to blast Eric, nearly killing him. However, the distraction allowed Thor to recover and defeat Mongoose.
Feeling guilty for what happened to Eric, especially since he had shown such courage, Thor begged Odin to save Eric's life. Odin instead merged the two together, similar to how Thor was bonded with Donald Blake. Later, when Loki attacked and Thor killed him, Odin banished Thor as punishment, leaving Eric whole again, but with Mjolnir and the powers of Thor. Eric began a long quest to find Thor and bring him back, even traveling to Mephisto's realm, where he saw a bag with a glowing image of Thor on it before he was brought back from Mephisto's realm by Doctor Strange.
Powers & Abilities
Eric's abilities are derived from the enchanted mace Thunderstrike, made of mystic uru metal, which is nearly indestructible, crafted by the Asgardian dwarves Brokk and Eitri, and given the following enchantments by Odin. Stamping the mace reverts Thunderstrike back to Eric's mortal human form, dressed in whichever clothes he last wore in that form, with any physical damage fully healed with the exception of certain mystical spells such as Seth's Mark of Death, while the mace Thunderstrike transforms into a wooden cane. By stamping his walking stick on the ground Eric Masterson transformed back into his superhuman form, bearded and dressed in the garb of Thunderstrike, while the cane again becomes the mace.
The mace itself can be thrown over great distances and return to the point it is thrown from. By throwing the mace and gripping it strap, Thunderstrike can fly (although the comic emphasizes that this is much rockier and less steady than Thor's flight). He can use the mace to fire powerful concussive blasts of mystical energy. The mace magically enables him to survive the adverse conditions of outer space, including its lack of oxygen. The mace can also be used for tracking various energy sources and has the ability to create mystical vortexes to travel from one place to another.
Thunderstrike's physical abilities are enhanced to superhuman levels, including his strength, speed, durability, agility, reflexes, and endurance. As Thunderstrike, he was one of the strongest heroes in the Marvel Universe, though his strength didn't approach the level of Thor. He can survive in space without the need for oxygen. He is a formidable hand-to-hand combatant, and has received some combat training from Captain America.