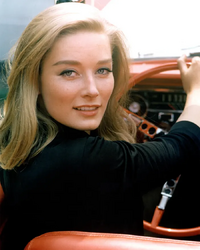 Tilly Masterson is a heroine who appares in 007's movie Goldfinger .
She was played by Tania Mallet.
History
Tilly meets Bond for the first time when he is driving in the streets of Geneva while on the trail of Auric Goldfinger, Tilly whizzes around the corner and honks his horn to get attention and Bond lets her pass, but holds back commenting " Discipline 007! ", He stops on the village of a hill and then realizes that Goldfinger has stopped just below him.
Unbeknownst to Bond, Tilly is there to avenge her sister, Jill Masterson, she wants to shoot Auric, but misses her target by almost hitting Bond. For this she is forced to flee, Bond follows her. After a short chase, Bond uses the tire shred function on his Aston Martin to blow the tires off Tilly's car. Bond accompanies Tilly to her Garage where she refuses any type of car he has.
Tilly reunites with Bond at Goldfinger's factory, where she is still trying to kill Goldfinger. Bond tries to make her think, but she doesn't want to listen to him and accidentally triggers the alarm and the two are forced to flee in the Aston Martin. However, the road suddenly comes to a halt and this forces Bond and Tilly to flee into the forest, with Bond setting fire to cover so that Tilly can escape, but Oddjob, Goldfinger's killer henchman, throws his razor-edged hair and snaps off. Tilly's neck and when Bond joins her, she's already dead.
Trivia
Tilly is the second woman that Bond fails to protect from death, and also the second in this film. The first was her sister, Jill.