| | | |
| --- | --- | --- |
| " | Sparkling Silver Wolf! GaoSilver! | " |
| | ~ GaoSilver | |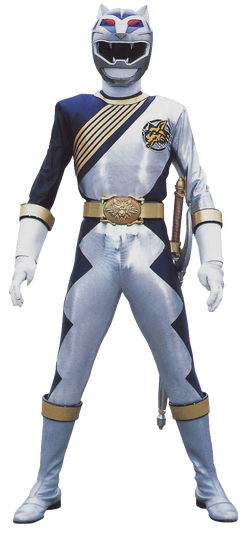 Tsukumaro Ogami (大神 月麿, Ōgami Tsukumaro) is GaoSilver of the Gaorangers. He is otherwise known as Shirogane (シロガネ), is a 1,062 year old Gao Warrior from the Heian period.
Biography
Gaoranger
1,000 years ago, GaoGod was defeated by Hyakkimaru, a fusion of the Highness Dukes. In desperation, Tsukumaro took the Dark Wolf Mask, which would give him the extra power they'd need to defeat the Org. Despite the warnings of the priestess, Murasaki, that the mask would possess him, he donned it. The energy within the mask, the Thousand-Year Evil, gave him the ability to combine his three Power Animals into GaoHunter. Shirogane lasted long enough to defeat Hyakkimaru, then the mask transformed him into Rouki. He begged the other Gao Warriors to stop him while he still had a vestige of control, so they sealed him within a tomb.
Centuries later, Shirogane was released from his seal by Ura to fight against the present day Gaorangers, fully under the mask's control. Although he initially perceived himself as a full-Org, he began to show aspects of his true self, such as tending the wounds of Sae and helping an injured wolf. Once the mask was destroyed and the evil energy was released, he was returned to his human form.
GaoSilver
Power Animals
GaoHunter

GaoWolf
GaoHammerhead
GaoLigator

GaoGod

GaoLeon
GaoCondor
GaoSawshark
GaoBuffalo
GaoJaguar
Arsenal
G-Brace Phone
Gao Jewels
Gao Weapon: Gao Hustler Rod

Saber Mode
Sniper Mode
Break Mode

Wolf Roader
Special Attacks: Silver Wolf Full Moon Cut
Gallery