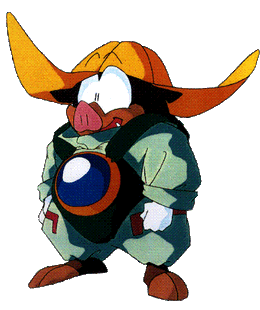 Urii is a boars and the youngest member of the Eto Rangers. His Eto Ranger designation is 12 because he came in first in the race that decided who would become Eto Rangers.
History
At the start of the series, Urii and the rest of Eto Rangers entered the race in order to make it to the finish line. Unfortunaltely, the animal heroes are having fun in the race. Suddenly, the darkness arrives to attack the world of Mugen ruled by Princess Aura. When the fun was interrupted, the darkness begins to grow. When Eto Rangers are summoned by Princess Aura. The Animal heroes are ready to save the novel worlds from the Evil-Spirited Monsters.
Personality
Urii is a wimpy pig with the foolish sense of cowardice. Although, he easily lacks courage. However, the cry causes him to unleash the blast against the enemies with Whee Blast by saving the heroes during missions.
Powers and Abilities
Boar Physiology - With this ability, Urii can mimic/transform into suidae: domestic and wild pigs and boars. Note that most pigs are remarkably creative and hardy, and their fighting abilities should never be underestimated. This holds true for domestic pigs as well.
Zodiac Physiology -User with this ability either is or can transform into any or certain Astrological Zodiac signs. Most commonly known zodiacs are:

Western Zodiac is founded on the movements and relative positions of celestial bodies such as the Sun, Moon and planets, which are analyzed by their movement through signs of the zodiac during the year.
Chinese Zodiac relates each year to an animal and its reputed attributes, according to a 12-year cycle in combination of five elements.

Zodiac Empowerment - The user is able to have the powers of zodiac signs. This includes Western Astrology or the Eastern Zodiac. They may draw their power from either their own sign or a compilation of signs. If the latter is true, then one could combine their zodiac abilities to generate stronger effects. Zodiac abilities are at their strongest during the months that they are active; their designated months.
Gallery
Community content is available under
CC-BY-SA
unless otherwise noted.