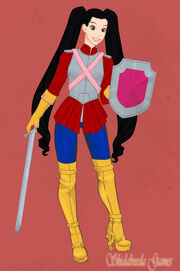 Hi. I'm Kimberly Jordan and I'm from Ft. Washington in the state of Maryland. I first found a lot of these heroes and heroines when I was very little, right after I was born. Day by day, week by week, month by month and year by year, I've identified these characters very well and about later and now, I saved as many pictures of them as I wanted. For reality, the world's secret heroes as I'm still thinking are inventors and scientists. I also think Love-a-Lot Bear is a hero too and so is the turtle named Venus de Milo. I can also say Maria Merryweather is really determined and she has a chance to break the curse. Jemima Potts is really a hero's helper along with her family, they have a mission to find her Grandpa Potts. And Billy the Meerkat is quite a tri-talent. He can golf, drum and sing. As for Aya Mikage, she is able to land on her feet like a cat. A green-haired girl named C.C. really likes pizza as her favorite food. Christine Daaé is a heroic singer people have loved. And the Mariachi Owls are quite a musical band. Since my parents and I've watched more Christmas films, I realize that there are more heroes than I really predicted.
My favorite pages
Community content is available under
CC-BY-SA
unless otherwise noted.