Hello again, i bring a new Pure Good Proposal, this time the candidate is Orihime Inoue from Bleach, I note in the was in the Pure Good category and she still had no proposal yet, so he decides to make it to her.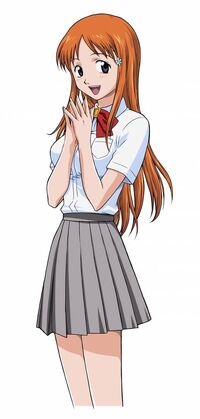 What's the work
Bleach is a Japanese manga series written and illustrated by Tite Kubo. The story follows the adventures of the hotheaded teenager Ichigo Kurosaki, who inherits his parents' destiny after he obtains the powers of a Soul Reaper—a death personification similar to the Grim Reaper—from another Soul Reaper, Rukia Kuchiki. His new-found powers force him to take on the duties of defending humans from evil spirits and guiding departed souls to the afterlife, and set him on journeys to various ghostly realms of existence.
Who is Orihime?
Orihime Inoue is the Ichigo's childhood friend who later turned to his girlfriend and later wife, 11 years later in the end of the Pre-Timeskip, She wears one earrings that have powers and is accompanied by some fairies, those earrings were a gift from her late brother Sora.
Admirable Standard/Goodness Zone
Orihime has shown very heroic acts always willing to help and support her companions and even save lives, saving the life of her best friends Tatsuki Arisawa and Chizuru Honshō from Numb Chandelier, supporting Ichigo in rescuing Rukia from being executed and in addition to defending her in a certain point in the series.
Besides, she prevented her brother's spirit from ending up under in the Hueco Mundo and aside from saving him from the power of the Hollow and allowing his soul to live in the society of souls.
She also cooperated with Uryu in defeating Jirobo Ikkanzaka.
Corrupting Factors
Orihime may seem like a hindrance to Ichigo, Rukia and Uryu or at a certain point interfere in a fight, but I don't exactly consider her disqualifying, she has very kind acts always willing to support her companions and even if necessary, besides that she has no corrupting factors.
Final Veredict
I think Yes, Orihime is a pretty strong, selfless and pure-hearted heroine that deserves to be approved.