| | | |
| --- | --- | --- |
| " | I'm a fast-flying fairy; a true rare talent. And this just a small part of what I do. | " |
| | ~ Vidia | |
Vidia is the main antagonist of Tinker Bell, a minor character in The Lost Treasure, and a supporting character in its other sequels
She has the ability to fly at super speeds, and can create small whirlwinds and such. She has recently began to rethink her wicked ways and has become friends with her former victims, even risking her life for them. She still remains sarcastic, calculating, and temperamental as she always was, and although she can be mean, wicked, uncaring, and vindictive, Vidia has a soft spot as well.
She was voiced by Pamela Aldon. In the Japanese dub from the movie, she was voiced by Romi Park.
Appearances
Tinker Bell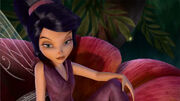 When a new fairy arrives in Pixie Hollow, Vidia and the other fairies are present to witness what talent she shall become. The fairy, eventually named Tinker Bell, becomes a tinker fairy. Vidia scoffs at the tinker-talents, calling them the most useless talent in all of Pixie Hollow. Later on, Tinker Bell attempts to befriend Vidia, but Vidia immediately dislikes her because of her unusually strong talent. During their first meeting, Vidia also learns that Tinker Bell believes she is going to the mainland, though no one informed her that it is only nature-talent fairies that travel to the mainland. In an attempt to witness the fairy embarrass herself, Vidia advises Tink to prove her worth of going to the mainland, prompting Tinker Bell to create an array of inventions to showcase during Queen Clarion's review.
Later on at the review, Vidia witnesses as Tinker Bell's inventions prove to be less than impressive. Vidia watches happily as Queen Clarion informs Tink that tinkers do not go to the mainland as it is only a job for the nature-talents, leaving the tinker downhearted. Because tinkers cannot go to the mainland, Tinker Bell decides to change her talent, something that hasn't been done before. During a lesson on how to be an animal fairy, Tinker Bell accidentally attracts the attention of a hawk. Tink hides in Vidia's private hiding spot in a tree hollow. Vidia falls into the hawk's vision and is nearly killed, though the other fairies save her by throwing fruits at the creature, but Vidia is also hit. After the hawk retreats, Vidia lifts herself up but is covered with fruit, proving to be quite embarrassing.
Tink tries to help, but Vidia denies and tells the tinker off. After Tinker Bell fails to learn the other talents, she goes to Vidia for help as a last resort. Vidia craftily tells the tinker that capturing the vicious sprinting thistles would prove her worth. However, once she sees Tinker Bell making progress, she lets the captured thistles loose and, while attempting to recapture them, Tink destroys all the preparations for spring. Tink decides to redeem herself, however, by making good use of her talent and concocting various innovations to help restore all the preparations thrice as fast.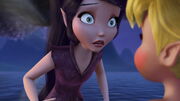 When Vidia witnesses this, she attempts to destroy everyone's sudden hope in the tinker by reminding them that she was the cause of the disaster. Vidia and Tink then get into a heated argument, during which Tink asked Vidia if she has helped anyone but herself, unknowingly got Vidia to yell that she should have told her to capture the hawk instead of the thistles, thus revealing her true self. Queen Clarion punishes the fast-flying fairy by forcing her to gather all the sprinting thistles that Tink unintentionally unleashed upon Pixie Hollow, thus Vidia was never an antagonist again.
Tinker Bell and the Lost Treasure
Vidia returns to a much smaller role and has no dialogue. She only makes two cameos and does not appear throughout the rest of the film otherwise. Her first cameo is during the opening song. Her second cameo is at the end of the film where she hides the fact that she is proud that Tinker Bell came through.
Tinker Bell and the Great Fairy Rescue
During the summertime, Vidia and many other fairies and sparrow men have journeyed to the mainland to attend Fairy Camp. On the first day of camp, in an attempt to keep Tinker Bell away from humans, Vidia reveals the presence of humans near the camp, urging Tink to go out and discover. When she does, Vidia follows after her to make sure she does not get into mischief. When Vidia finally convinces Tinker Bell to head back to camp with her, the two stumble upon a small fairy-sized house created by humans. Vidia immediately finds it dangerous, while Tinker Bell heads in to explore. Despite Vidia's constant warnings to exit, Tinker Bell refuses to leave, as she is too busy looking around. To teach Tink a lesson, Vidia uses her wind ability to slam the door shut. Unfortunately, the human girl (Elizabeth Griffiths), who created the house to meet a real fairy, begins to approach Vidia and Tinker Bell, with the latter still inside the house.
Vidia desperately attempts to open the door, but the door is jammed. Vidia then hides in the nearby grass as the human girl takes Tinker Bell back to her home, upon discovering her inside the playhouse. Vidia rushes back to camp and rallies Rosetta, Iridessa, Fawn, Silvermist, Clank and Bobble to rescue Tink. Because of the rain, however, the fairies are unable to simply fly to Tink's rescue, but Clank and Bobble come up with the idea of building a boat. Once the boat is completed, the fairies make way for the human house. As the adventure progresses, Vidia begins to feel more and more guilty about Tinker Bell's capture, eventually confessing to the others that she slammed the door, causing Tinker Bell to get trapped in the makeshift house. Rosetta, Iridessa, Silvermist, and Fawn comfort Vidia about the situation and inform her that it could have been worse without her presence.
With Vidia's guilt now abolished, the fairies move on, with Clank and Bobble finding the house. They sneak inside but are suddenly attacked by the humans' cat, Mr. Twitches. While Rosetta, Fawn, Silvermist, Iridessa, Clank, and Bobble take care of the cat, Vidia heads to Lizzy's room. When Vidia finally reaches the room, Lizzy is in the process of introducing her father, Dr. Griffiths, to Tinker Bell. Vidia silently witnesses this and notices Dr. Griffiths emptying a jar, preparing to capture Tinker Bell. Vidia pushes Tink aside and ends up captured instead. Dr. Griffiths quickly makes his way to London to reveal Vidia to a group of scientists. With the rain still going strong outside, Tinker Bell and the others bestow pixie dust upon Lizzy so that she may fly them to her father.
Once they reach him, Lizzy helps her father notice the dangers of his actions, causing Dr. Griffiths to release Vidia, as he meant no harm to the fairies. As a reward, Tink, Vidia, and the others, sprinkle pixie dust on Dr. Griffiths, so he may fly through the London skies alongside his daughter. Later on, Vidia and the others are seen having a picnic with Lizzy and her father. Meanwhile, Vidia and Tink have officially formed a friendship, letting go of the past.
The Pixie Hollow Games
In the special, Vidia represents the fast-flying fairies' with Zephyr as her teammate competing in the games with the animal, water, light, garden, storm, tinker, and other nature-talent fairies. She trains herself by flying faster than the speed of sound itself. Vidia and Zephyr got second place in the finals but during the cart race, they took a shortcut which led their cart to crash, resulting in them being eliminated.
Secret of the Wings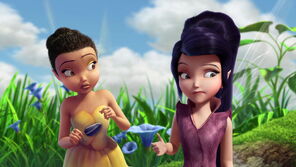 Vidia is first seen attending to her normal duties as a fast-flying fairy, creating a smooth breeze. Later on, Vidia and her friends rush to the doctor after Tinker Bell freezes her wings by purposefully crossing the border to the snow, frozen Winter Woods. The healing-talent fairy ensures that Tinker Bell would be fine, and the friends are able to depart. When outside, Tinker Bell tells her friends that her wings glowed when she crossed over, though she is not sure why. Vidia and the others do not exactly believe her, so Tink crosses over again. When she does, she learns that when her wings glow, that means her fraternal twin sister, Periwinkle, is near. Tinker Bell and Periwinkle grow a strong and close sisterly bond over the day, and Tink wants Peri to see the rest of Pixie Hollow.
That night, Tinker Bell enlists the help of Vidia and the others to create a snow making machine that will allow Peri to visit. However, Vidia is a bit cynical when she hears Peri's tour will end with meeting Queen Clarion. Tink ensures her that Queen Clarion will rethink the border law upon learning that she and Peri are sisters. Vidia agrees and the machine is complete overnight, and Periwinkle is able to visit. When Vidia and the others meet Periwinkle, Vidia is surprised by the striking similarities she shares with Tinker Bell, but nevertheless, welcomes her and warns her that Tinker Bell may be a little tricky to get along with. The tour is short-lived, however, as the heat begins to shrivel Peri's wings. Tink and Vidia lift Peri back across the border, where they are confronted by Lord Milori, the ruler of the Winter Woods. Milori declares that it is too dangerous for Periwinkle and Tinker Bell to continue seeing each other.
Vidia tries to comfort Tink and take her home, but the tinker refuses to have it end like that. However, Queen Clarion agrees that it is too dangerous, so the two sisters part ways. Later on, the snow machine begins to freeze parts of Pixie Hollow. Vidia and the others are able to destroy it, but the damage its already done threw off the balance of the seasons. If the fairies do not think of something, the Pixie Dust Tree would be destroyed and no fairy would fly again. Periwinkle and the frost fairies use their ability to preserve the Pixie Dust Tree, which proves successful. When Tink reveals that her efforts to bring the frost fairies to Pixie Hollow to save the tree had resulted in her breaking her wing, Vidia is shown as one of those who is genuinely sad over it. However, when Tink's special connection with her sister Perri caused her wing to be healed, Vidia is one of the first to show her joy in joining in the mid-air group-hug, proving that she really does care about Tink. In the end, warm fairies are allowed to cross the border, Tink and Peri lovingly reunite as true sisters, and Vidia sparks quite a friendship with the frost fairy, Spike.
The Pirate Fairy
Vidia appears in the fifth Tinker Bell film, where she and her friends go after Zarina, who has stolen the blue pixie dust from Pixie Hollow. Zarina switches her and the other fairies' talents, and much to her horror she becomes a tinker fairy.
Throughout the film, she starts to think and build like a tinker. She builds a boat out of a hatched crocodile egg, a rod and possibly the swords the fairies use to fight the pirates.
Tinker Bell and the Legend of the NeverBeast
Vidia returns in the sixth Tinker Bell film alongside with her fellow fairies.
Personality
When all is said and done, Vidia is sly, grouchy, vindictive, and narcissistic, but has a good heart. She tends to use sugary phrases such as "darling" and "dear" in a condescending manner to other fairies. She is said to be the fastest fairy in Pixie Hollow, but her title gets to her head, as she is determined to keep her title and would go to great lengths to achieve this. Not only does she feel she is the best in speed, but the best fairy overall and berates anyone who thinks otherwise. She is incredibly strong-willed and outspoken, much like Tinker Bell, which can also indicate why the two fairies clash many times.
Despite her negative traits, Vidia ultimately has a good heart, most notably seen in Tinker Bell and the Great Fairy Rescue where she traps Tinker Bell in a fairy-sized house made by a human girl in an attempt to teach Tink a lesson on how dangerous human things can be. When the human girl ends up taking Tink to her home, Vidia puts all of her differences with the tinker aside to rescue her. Upon this adventure, Vidia reforms completely and is shown to be much friendlier with Tink and her friends.
Even so, she still maintains her anti-hero persona as seen in The Pixie Hollow Games where she is looking forward to Rosetta embarrassing herself during the competitions, knowing the garden fairy's fear of dirt and mud (which is much unlike the other garden fairies, who only do not want to enter because they never even came close to winning).
Vidia also appears to be an outcast in Pixie Hollow. She is the only fairy in the land to not reside in the home tree. Instead, she resides in a sour plum tree on the outskirts of the land.
Videos
Audio Sample
External links
Vidia in the Villains Wikia.
Heroes
Animated Features
Snow White | Seven Dwarfs (Doc, Bashful, Grumpy, Happy, Sleepy, Sneezy & Dopey) | The Prince | Huntsman | Pinocchio | Jiminy Cricket | Gepetto | Blue Fairy | Figaro | Cleo | Madame Upanova | Hyacinth Hippo | Ben Ali Gator | Dumbo | Timothy Q. Mouse | The Crows | Mrs. Jumbo | Bambi | Thumper | Flower | Faline | Bambi's Mother | Great Prince of the Forest | Friend Owl | José Carioca | Panchito Pistoles | Willie the Whale | Bongo the Bear | Lulubelle | Willie | Mr. J. Thaddeus Toad | Water Rat | Angus McBadger | Pecos Bill | Slue-Foot Sue | Ichabod Crane | Katrina Van Tassel | Cinderella | Jaq and Gus | Anastasia Tremaine | Fairy Godmother | Prince Charming | Bruno | The King | Grand Duke | Alice Liddell | Peter Pan | Tinker Bell | Wendy Darling | John Darling | Michael Darling | Tick-Tock the Crocodile | Lady | Tramp | Jock | Trusty | Annette, Collette and Danielle | Aurora | Prince Phillip | Flora | Fauna | Merryweather | King Stefan | Queen Leah | King Hubert | Forest Animals | Pongo | Perdita | Roger Radcliffe | Anita Radcliffe | Nanny | Lucky | Patch | Rolly | Colonel | Sergeant Tibbs | Captain | Arthur Pendragon | Merlin | Mowgli | Baloo | Bagheera | King Louie | Colonel Haiti | Shanti | Winifred | Rama | Vultures | Raksha | Duchess | Thomas O'Malley | Marie | Toulouse | Berlioz | Scat Cat | Abigail and Amelia Gabble | Waldo | Frou-Frou | Roquefort | Robin Hood | Little John | Maid Marian | Friar Tuck | Lady Kluck | Alan-A-Dale | King Richard | Toby Turtle | Winnie the Pooh | Tigger | Piglet | Eeyore | Rabbit | Owl | Kanga | Roo | Christopher Robin | Gopher | Bernard | Bianca | Penny | Orville | Evinrude | Tod | Copper | Big Mama | Dinky and Boomer | Vixey | Widow Tweed | Tod's mother | Taran | Gurgi | Elionwy | Fflewddur Fflam | Basil of Baker Street | Dr. David Q. Dawson | Olivia Flaversham | Toby | Hiram Flaversham | Oliver | Dodger | Tito | Rita | Francis | Einstein | Fagin | Jenny Foxworth | Georgette | Winston | Ariel | Eric | Sebastian | Flounder | Scuttle | King Triton | King Triton's Daughters (Attina, Alana, Adella, Aquata, Arista, & Andrina) | Max | Cody | Jake | Marahute | Wilbur | Frank | Belle | Beast | Lumière | Cogsworth | Mrs. Potts | Chip Potts | Fifi | Maurice | Aladdin | Jasmine | Genie | Magic Carpet | Abu | Rajah | Iago | Razoul | The Sultan | Simba | Mufasa | Nala | Timon | Pumbaa | Rafiki | Zazu | Sarabi | Sarafina | Pocahontas | John Smith | Meeko | Flit | Grandmother Willow | Percy | Thomas | Nakoma | Chief Powhatan | Quasimodo | Esmeralda | Captain Phoebus | Victor, Hugo, & Laverne | Djali | Clopin | Hercules | Megara | Pegasus | Philoctetes | Zeus | Hera | Hermes | Olympian Gods (Posidon, Aphrodite, Apollo) | Muses | Fa Mulan | Mushu | Li Shang | Cri-Kee | Grandmother Fa | Yao, Ling, and Chien Po | Khan | Ancestors | The Emperor of China | Tarzan | Jane Porter | Terk | Tantor | Kala | Archimedes Q. Porter | Kerchak | Baboons | Whales | Tin Soldier | Ballerina | Yo Yo Flamingo | Spring Sprite | Aladar | Plio | Zini | Yar | Suri | Neera | Eema | Baylene | Url | Bruton | Emperor Kuzco | Pacha | Kronk | Milo James Thatch | Kida | Dr. Joshua Sweet | Vincenzo Santorini | Gaetan Moliére | Audry Ramiraz | Cookie | Wilhelmina Packard | Preston B. Whitmore | Stitch | Lilo Pelekai | Nani Pelekai | Jumba Jookiba | Captain Gantu | Pleakley | David Kawena | Cobra Bubbles | Grand Councilwoman | Mertle Edmonds | Jim Hawkins | John Silver | Dr. Doppler | Captain Amelia | Morph | B.E.N. | Kenai | Denahi | Sitka | Koda | Rutt and Tuke | Maggie | Grace | Mrs. Calloway | Buck | Lucky Jack | Chicken Little | Abby Mallard | Runt of the Litter | Fish Out of Water | Buck Cluck | Lewis | Wilbur Robinson | Franny Robinson | Lefty | Bolt | Mittens | Rhino | Penny | Tiana | Prince Naveen | Louis the Alligator | Ray the Firefly | Charlotte La Bouff | Eli "Big Daddy" La Bouff | Mama Odie | Juju | Rapunzel | Flynn Rider | Pascal | Maximus | Wreck-It Ralph | Vanellope von Schweetz | Fix-It Felix, Jr. | Sergeant Calhoun | Queen Anna | Queen Elsa | Kristoff | Olaf | Sven | Hiro Hamada | Baymax | Honey Lemon | GoGo Tomago | Wasabi | Fred | Tadashi Hamada | Cass Hamada | Alistair Krei | Judy Hopps | Nick Wilde | Chief Bogo | Mr. Big | Moana Waialiki | Maui | Grandma Tala | Chief Tui | Ocean | Heihei | Te Fiti | Yesss | Shank | J.P. Spamley | Gord | KnowsMore | Lieutenant Mattias | Yelana | Honeymaren Natura | Ryder Nattura | Bruni | Gale | The Nokk | Earth Giants | Raya | Sisu | Boun | Noi | Tong | Ongis | Tuk Tuk | Chief Benja

Live-Action Movies
Marnie Piper | Aggie Cromwell | Gwen Piper | Dylan Piper | Sophie Piper | Long John Silver | Perri | Travis Coates | Old Yeller | Nikki | Neewa | Big Red | Herbie | Chico | Goodtime Charlie | Dexter Reilly | Wahb | Moki | Miss Eglantine Price | Theodore and Amos | Pete | Elliott | Nora | Zunar-J-5/9 Doric-4-7 | Frank Wilson | Popeye | Olive Oyl | Kevin Flynn | Alan Bradley | Jack Pumpkinhead | Billina | Tik-Tok | The Gump | Wolf | Benji | Cougar cubs | Mother Cougar | Jim Craig | Roger Rabbit | Eddie Valiant | Jessica Rabbit | Benny the Cab | Ted Johnson | Susan Johnson | Morogo | Duma | White Fang | Jack Conroy | Henry Casey | Buck | Cliff Secord | Jenny Blake | Gordon Bombay | Wayne Szalinski | Max Dennison | Dani Dennison | Allison | Thackery Binx | Tom Sawyer | Huckleberry Finn | Aramis | Athos | D'Artagnan | Porthos | George Knox | Scott Calvin | Charlie Calvin | Shadow | Chance | Sassy | James Henry Trotter | Mr. Centipede | Mr. Grasshopper | Earthworm | Mrs. Ladybug | Miss Spider | Glowworm | George of the Jungle | Ursula Stanhope | Ape | Phillip Brainard | Sara Jean Reynolds | Mr. Magoo | Nick Parker | Annie James | Nick Parker | Elizabeth James | Mighty Joe Young | Jill Young | Gregg O'Hara | Martin | Inspector Gadget | Penny Gadget | Brain | Dr. Brenda Bradford | Mia Thermopolis | Max Keeble | Megan | Robe | Carol Newman-Calvin | Stanley Yelnats IV | Zero (Holes) | Captain Jack Sparrow | Joshamee Gibbs | Will Turner | Elizabeth Swann | Hector Barbossa | James Norrington | Jim Evers | Sara Evers | Madame Leota | Emma | Anna Coleman | Phileas Fogg | Inspector Fix | Ben Gates | Riley Poole | Abigail Chase | Shane Wolfe | Zoe Plummer | Lulu Plummer | Will Stronghold | Layla Williams | Warren Peace | Zach | Ethan | Magenta | Ron Wilson | The Commander | Jetstream | Freeze Girl | Principal Powers | Coach Boomer | Jonathan Boy | Peter Pevensie | Susan Pevensie | Edmund Pevensie | Lucy Pevensie | Aslan | Mr. Beaver | Dave Douglas | Jess Aarons | Leslie Burke | Giselle | Robert Philip | Prince Edward | Pip | Nathaniel | Underdog | Sweet Polly Purebred | Skeeter Bronson | Darwin | Blaster | Hurley | Juarez | Mooch | Bucky | Alice Kingsleigh | Mad Hatter | White Queen | Bandersnatch | Prince Dastan | Princess Tamina | Sheik Amar | Dave Stutler | Balthazar Blake | Balthazar's Eagle | Kevin Flynn | Sam Flynn | John Carter | Troy Bolton | Sharpay Evans | Ryan Evans | Gabriella Montez | Chad Danforth | Taylor McKessie | The Lone Ranger | Tonto | Oscar Diggs | Glinda the Good Witch of the South | China Girl | Maleficent (2014) | Diaval | Aurora (2014) | Prince Phillip (2014) | Knotgrass, Flittle and Thistlewit | The Baker | Cinderella | Rapunzel | Little Red Riding Hood | Cinderella (2015) | Prince Charming (2015) | Anastasia Tremaine (2015) | Mice (2015) | Fairy Godmother (2015) | Jaq and Gus (2015) | Lizard Footmen | Mr. Goose | Casey Newton | Frank Walker | Athena | Mowgli (2016) | Bagheera (2016) | Baloo (2016) | Raksha (2016) | Akela (2016) | The BFG | Sophie | Pete (2016) | Elliott (2016) | Grace Meacham | Mr. Meacham | Natalie Magary | Gavin Magary | Jack Magary | Belle (2017) | Beast (2017) | Maurice (2017) | LeFou (2017) | Lumière (2017) | Cogsworth (2017) | Mrs. Potts (2017) | Chip Potts (2017) | Christopher Robin (2018) | Winnie the Pooh (2018) | Madeline Robin | Evelyn Robin | Eeyore (2018) | Tigger (2018) | Piglet (2018) | Giles Winslow Sr. | Clara Stahlbaum | Phillip Hoffman | Mother Ginger | Mouse King | Dumbo (2019) | Holt Farrier | Milly and Joe Farrier | Max Medici | Colette Marchant | Aladdin (2019) | Jasmine (2019) | Genie (2019) | Magic Carpet (2019) | Abu (2019) | Rajah (2019) | Dalia | The Sultan (2019) | Simba (2019) | Mufasa (2019) | Nala (2019) | Timon (2019) | Pumbaa (2019) | Rafiki (2019) | Zazu (2019) | Sarabi (2019) | Sarafina (2019) | Conall | Borra | King John | Lady (2019) | Tramp (2019) | Jock (2019) | Trusty (2019) | Artemis Fowl | Holly Short | Juliet Butler | Mulch Diggums | Domovoi "Dom" Butler | Foaly | Artemis Fowl I | Commander Julius Root | Ivan | Bob | Stella | Ruby | Snickers | Henrietta | Murphy | Frankie | Thelma | Hua Mulan | Commander Tung | Chen Honghui | Yao, Ling and Chien Po | Emperor of China

Other Animated Movies
Br'er Rabbit | Toaster | Blanky | Kirby | Lampy | Radio | Jack Skellington | Sally | Zero | Mayor of Halloween Town | Santa Claus | Valiant | Bugsy | Lofty | Toughwood & Tailfeather | Mercury | Victoria | Wing Commander Gutsy | Sergeant Monty | Charles de Girl | Rollo | Samson | Benny | Bridget | Nigel | Larry | Ryan | Blag | Cloak & Camo | Stan & Carmine | Silvermist | Rosetta | Fawn | Iridessa | Bobble and Clank | Terence | Ebenezer Scrooge | Milo | Gribble | Ki | Milo's Mother | Victor Frankenstein | Sparky | Elsa Van Helsing | Dusty Crophopper | Dottie | Skipper Riley | Sparky | El Chupacabra | Vidia | Lizzy | Periwinkle | Zarina | Gruff | Marianne | Dawn | Sunny | Bog King

Sequels
Ethan Dalloway | Cassim | Angelique | Fife | John Rolfe | Uttamatomakkin | Kiara | Kovu | Vitani | Ratso | Murgatroid the Snake | Melody | Tip and Dash | Sylvia Marpole | Scamp | Angel | Baker | Madellaine | Zephyr | Prudence | Jane | Ranjan | Messua | Ranjan's Father | Sparky | Reuben | Thunderbolt | Lars | Ting-Ting, Su, and Mei | Zugor | Cash | Atka | Dixie | Granny Rose | Waylon and Floyd | Queen Athena | Blade Ranger | Maru | Windlifter

Shorts, TV Shows, Comics and Video Games
Pete | Oswald the Lucky Rabbit | Mickey Mouse | Minnie Mouse | Horace Horsecollar | Pluto | Goofy | Donald Duck | Daisy Duck | Ludwig Von Drake | Scrooge McDuck | Huey, Dewey, and Louie | Mortimer Mouse | Chip and Dale | Max Goof | Gladstone Gander | Fethry Duck | Gruffi Gummi | Zummi Gummi | Grammi Gummi | Cubbi Gummi | Sunni Gummi | Tummi Gummi | Gusto Gummi | Cavin | Princess Calla | King Gregor | Sir Tuxford | Sir Gawain | Sir Victor | Princess Marie | Aquarianne | Kessie | Wooster | Nasty Jack | Bruno | Gyro Gearloose | Launchpad McQuack | Webby Vanderquack | Bentina Beakley | April, May and June | Darkwing Duck | Gosalyn Mallard | Monker Muddlefoot | Mona | Morgana Macawber | Pistol Pete | Peg Pete | P.J. | Kit Cloudkicker | Rebecca Cunningham | Chiro | Jinmay | Cassandra | Lance Strongbow | Adira | Varian | Kiera and Catalina | Gabriella | Spot the Killer Whale | Urchin | Sora | Kairi | Riku | Aqua | Terra (Lingering Will) | Ventus | Organization XIII | (Axel | Xion | Roxas | Vexen) | Lea | Ienzo | Zak William Lake | Lauriam | Elrena | Strelitzia | Naminé | Riku Replica | Ansem the Wise | Master Eraqus | Spirit Dream Eaters | Data-Naminé | Data-Riku | Data-Roxas | Data-Sora

See Also


| | | | | | | | |
Community content is available under
CC-BY-SA
unless otherwise noted.