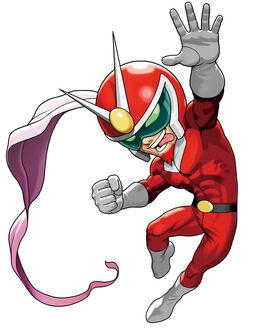 Viewtiful Joe
is the red-costume Superhero version of Joe, an average movie lover whose world was turned upside-down when he found himself brought into the World of Movies.
Story
Joe was just a 17-year old average movie lover, and an especially big fan of Tokusatsu movies starring his icon, Captain Blue. He would always head to an old movie theater, which was run by his father, Jet Black, to watch Captain Blue movies. One day, he was there on a date with his girlfriend, Silvia, watching a Captain Blue movie, when suddenly, the villain reached out of the movie and kidnapped Silvia! As Joe watched, the hero mecha, Six Majin. was also knocked out of the movie, and brought Joe in with it!
Inside the movie, Joe is given a V-Watch by Captain Blue and sets out to save both Silvia and Movieland!
Gallery
Community content is available under
CC-BY-SA
unless otherwise noted.