| | | |
| --- | --- | --- |
| " | I have a system: there's a place for everything, everything in its place. | " |
| | ~ Wasabi | |
Wasabi is the secondary tritagonist from the 2014 Disney animated feature Big Hero 6. He is one of the member of the Big Hero 6 team and uses his plasma blades as weapons.
He was voiced by Damon Wayans, Jr. who also played Justin Miller in the 2014 film Let's Be Cops and in animated TV series by Khary Payton, who also voices Cyborg from Teen Titans.
Background
Wasabi is an intelligent young man and notable student at the San Fransokyo Institute of Technology, majoring in applied physics. Among his group of friends are the colorful team he would eventually join to form Big Hero 6, being Go Go Tomago, Honey Lemon, fanboy Fred, and Hiro Hamada, brother of Tadashi Hamada, another one of Wasabi's closest friends.
Official Disney bio
Wasabi is committed to precision. He's super smart and just a touch neurotic, but the big and burly neatnik can't help but join the cause when Hiro needs him most. As part of "Big Hero 6," Wasabi amplifies his martial arts skills with jaw-dropping plasma blade weaponry. Sharp doesn't even begin to describe this guy.
Personality
Despite his muscular appearance, Wasabi is described as neurotic and compulsive, apparently suffering from OCD, as well as a hint of anxiety. Out of all his friends, Wasabi is arguably the most grounded, and appears to be the one with the most common sense, initially finding Hiro's plan to form a team of superheroes to stop a villainous masked man to be insane. In reality, such an idea would sound ridiculous. With these facts, Wasabi is often mistaken for a coward, as he's easily scared and disturbed. Wasabi is overly a "by the book" kind of person, strictly following rules and believes in using law and order as a way of going about everyday life. Whilst the other members of the team prefer to jump into action spontaneously, Wasabi would usually stand aside for a few moments to concoct a plan, eventually putting it into immediate, affective motion once he does. With the other members of the team being rather reckless at times, Wasabi's ultimate composure and ordinance can be a valuable source of prosperity amongst the team, specifically when dealing with crime-fighting.
Even so, Wasabi's lawful nature can sometimes annoy the others members of the team, specifically Go Go, who was openly frustrated with Wasabi during a high-stakes car chase through the city as the group tries to evade the villainous Yokai; as Wasabi would constantly follow the various rules of the road as he drove, slowing down their escape and making them an easier target for Yokai's clutches.
Wasabi is also shown to go by a system: where there's a place for everything, and everything is in its place; as shown during his introduction at San Fransokyo Tech, where he showcases his carefully organized and divided tools to the newcomer in the form of Hiro. His intense dislike for disorder is also seen in the snippet, where Go Go comedically grabs a tool, thus tarnishing the entire ordinance of his table, and resulting in a tantrum.
Physical appearance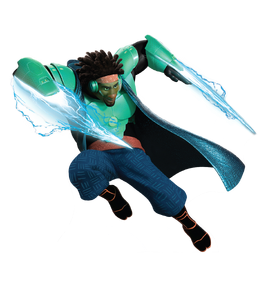 Wasabi is a large, burly man, creating a humorous juxtaposition with his ultimately soft nature. He is tall, very muscular and well-kept, with his most notable feature being his smooth dreadlocks. He is also bearded, with brown eyes, and a dark completion, and appears to be mostly fond of the colors green and yellow, when it comes to clothing attire. Wasabi can also be seen wearing all black, jikatabi shoes, where are often found in Japanese fashion.
When wearing his super suit, Wasabi dons mostly green, almost turquoise armor, accompanied by a flowing, shimmering cape and what appears to be Japanese cropped pants, with particular patterns layered over it. Wasabi's jikatabi fashion also remains intact with his armor, though given red linings to accompany the black.
Powers and abilities
In addition to his natural physical strength and scientific skill, Wasabi's suit contains a pair of retractable plasma blades housed in the forearms. These blades are razor sharp and can slice through most, if not all materials with relative ease.
Role in the film
Wasabi is first introduced at the San Fronsokyo Institute of Technology, where he's in the process of his latest experiment; laser induced plasma, with a little magnetic confinement for ultra precision. During the testing process, Wasabi meets Hiro, the younger brother of his good friend Tadashi. Wasabi takes the time to demonstrate his creation, as well as introduce Hiro to his method of organization and having a steady system; only to be interrupted by a reckless Go Go. Later on, when Hiro meets the eccentric Fred, Wasabi joins by their side during the meeting and mentions two facts: He received his nickname "Wasabi" from Fred after eating the food of the same name on one occasion, along with the fact that Fred once asked him to build a shrink ray, only to have his hopes rejected.
Later on, after some time would pass, it's revealed that Wasabi and the others have befriended Hiro, welcoming him into their circle of friends and assisting him in his science fair project, which he hopes will impress their professor, Professor Callaghan, thus allowing him enrollment into San Fransokyo Tech. On the day of the fair, Wasabi joins the others in providing Hiro support during his presentation, claiming to have several different necessities in case of an emergency due to nervousness. Despite brief apprehension, Hiro's presentation is a rousing success, and he's instantly accepted into the school, much to the delight of Wasabi and the others. In honor of the momentous occasion, Hiro and Tadashi's aunt, Cass, offers free food at her cafe, to which they accept. Unfortunately, after their departure, a fire breaks out at the school, and after hearing Professor Callaghan is still inside, Tadashi rushes in to save him, only to meet his untimely demise in doing so.
Wasabi and the others mourn the death of their friend, and spend their time comforting the Hamada family during the dark hours. Unfortunately, Hiro refuses to engage in contact, concealing himself within his room for weeks. Even so, Wasabi and the others make an attempt to send a video message, expressing their interest in having him join their side in school, as well as their circle of friends, only to face understandable rejection. However, later that night, Wasabi and the others were out on the city streets when they spot Hiro and Tadashi's robot, Baymax, snooping about the city. Wasabi follows behind in his van, and the gang soon finds themselves near the bay. Wasabi confronts Hiro on his actions, but it leads to no real explanation. That is, until a menacing figure wearing a kabuki mask arrives and attacks them; nearly killing Wasabi, though the latter is fortunately rescued by Baymax.
Without further hesitation, Wasabi and the others retreat to the former's van, and a car chase ensues. A by-the-book Wasabi constantly obeys the traffic laws, however, slowing the group down and heightening the chances of the masked figure's success in murdering them, until Go Go, out of frustration, takes the wheel. The chase ends with the team, and van, crashing into the waters of the bay, making the masked man believe them to be dead, thus taking his leave. Once emerged from the waters, Fred offers a place for recovery, which turns out to be his mansion home, much to Wasabi's surprise and utter confusion. After drying off, the friends discuss the masked man, and he's revealed to be a man who managed to steal Hiro's Microbots, and the cause of the fire that killed Tadashi. Wanting to bring him to justice, Hiro suggests they become technologically advanced superheroes to bring Yokai down themselves. Wasabi is the first to express his apprehensions on the matter, exclaiming they're simply a bunch of nerds, and as such, don't stand a chance against the villain. Nevertheless, he goes along with it, and "upgrades" are given to each member.
Wasabi is given special armor, with his primary weapons being plasma blades based off his latest school experiment. After a little training at Fred's manor, Baymax and Hiro set out to track Yokai's whereabouts, eventually discovering it to be on an abandoned island off the shores of the city. Wasabi joins the others in traveling over via flight through Baymax, and openly expresses his lack of enjoyment due to his fear of heights. Once they arrive, Wasabi is the only member to point out the lack of precaution the others are taking, after spotting a "Warning" sign on the gates that lead to a hidden facility. Nevertheless, a fearful Wasabi follows behind, and the team soon stumbles upon a giant machine in the making. After watching a surveillance recording, they learn that the machine is a transportation portal, that originally belonged to tech-guru Alistair Krei, but was destroyed after a malfunctioning during its test run, apparently killing the test pilot, Abigail. This leads the team to believe Krei is the one behind the mask.
And just then, Yokai attacks. Whilst the other members immediately jump into action, Wasabi stays behind in an attempt to think of a plan, only to impulsively jump into battle. Though he puts up a decent fight at first, Yokai soon gets the upper hand and defeats him. After a while, Hiro successfully unmasks the criminal, but he's revealed to be Professor Callaghan, who used the stolen Microbots to save himself from a fiery death. Infuriated, Hiro corrupts Baymax's programming and orders him to kill Callaghan. Knowing such an action is wrong, Wasabi, Go Go, and Fred battle Baymax to stop him, allowing Callaghan to escape in the process. Fortunately, Honey Lemon restores Baymax to his normal self, and the robot apologizes for his actions towards the team. Wasabi and GoGo confront Hiro on his behavior, only to have the boy storm off in grief, with Baymax by his side, leaving them stranded on the island, until Fred's butler arrives with the family jet. Once they return to San Fransokyo, Wasabi and the team visit Hiro to comfort him, understanding his actions were out of overwhelming sadness of Tadashi's death. Go Go then promises they'll put a stop to Callaghan's villainy, the right way.
The team then shows Hiro a piece of recording footage they found at Krei's facility, where it's revealed Abigail was the daughter of Callaghan, meaning his scheme is revolved around extracting revenge on Alistair Krei. With this knowledge, the team heads to Krei Tech, where Callaghan arrives and confronts the tech-guru. Before he's able to kill Krei, Wasabi and the team arrive, engaging in battle after Callaghan refuses to stand down. Wasabi is soon trapped between two metallic walls of Microbots, which continuously move closer from each side, as Callaghan plans to crush him to death. With the other members suffering similar catastrophes, Hiro advises them to look through a different angle to free themselves. Wasabi comes up with the idea to use his blades to get through the ground below him, thus freeing him from Callaghan's clutches. Once below, and reunited with some of the other teammates, Wasabi begins destroying the Microbots and sending them into the already activated portal, tarnishing Callaghan's source of power, and enabling the team access to apprehending him.
However, though the portal is taken down, it begins to glitch, and according to Krei, is on the verge of exploding. The team rallies together to evacuate the area, but Baymax senses life within the portal, and Hiro believes it to be Abigail. The duo journeys inside to save her, and though they do, Baymax loses his life. Wasabi is the first to notice Baymax's absence when Hiro and Abigail return, and without word, understands he sacrificed himself to save them. Nevertheless, Abigail is taken into medical care, whilst Callaghan is arrested. Meanwhile, Wasabi and his friends return to their normal lives as students at San Fransokyo Tech, while Hiro, having overcome his grief, joins by their side as one of their closest companions. One day, however, Hiro discovers Baymax's programming chip, thus enabling him the power of recreating the robot. Once Baymax returns, the Big Hero 6 team sees a resurgence, and the friends officially band together to protect the city from crime.
Gallery
Heroes
Animated Features
Snow White | Seven Dwarfs (Doc, Bashful, Grumpy, Happy, Sleepy, Sneezy & Dopey) | The Prince | Pinocchio | Jiminy Cricket | Gepetto | Blue Fairy | Figaro | Cleo | Madame Upanova | Hyacinth Hippo | Ben Ali Gator | Dumbo | Timothy Q. Mouse | Mrs. Jumbo | Bambi | Thumper | Flower | Faline | Bambi's Mother | Great Prince of the Forest | Friend Owl | José Carioca | Panchito Pistoles | Willie the Whale | Bongo the Bear | Lulubelle | Willie | Mr. J. Thaddeus Toad | Water Rat | Angus McBadger | Pecos Bill | Slue-Foot Sue | Ichabod Crane | Katrina Van Tassel | Cinderella | Jaq and Gus | Anastasia Tremaine | Fairy Godmother | Prince Charming | Bruno | The King | Grand Duke | Alice Liddell | Peter Pan | Tinker Bell | Wendy Darling | John Darling | Michael Darling | Tick-Tock the Crocodile | Lady | Tramp | Jock | Trusty | Annette, Collette and Danielle | Aurora | Prince Phillip | Flora | Fauna | Merryweather | King Stefan | Queen Leah | King Hubert | Forest Animals | Pongo | Perdita | Roger Radcliffe | Anita Radcliffe | Nanny | Lucky | Patch | Rolly | Colonel | Sergeant Tibbs | Captain | Arthur Pendragon | Merlin | Mowgli | Baloo | Bagheera | King Louie | Colonel Haiti | Shanti | Winifred | Rama | Vultures | Raksha | Duchess | Thomas O'Malley | Marie | Toulouse | Berlioz | Scat Cat | Abigail and Amelia Gabble | Frou-Frou | Roquefort | Robin Hood | Little John | Maid Marian | Friar Tuck | Lady Kluck | Alan-A-Dale | King Richard | Toby Turtle | Winnie the Pooh | Tigger | Piglet | Eeyore | Rabbit | Owl | Kanga | Roo | Christopher Robin | Gopher | Bernard | Bianca | Evinrude | Tod | Copper | Big Mama | Dinky and Boomer | Vixey | Widow Tweed | Tod's mother | Taran | Gurgi | Elionwy | Fflewddur Fflam | Basil of Baker Street | Dr. David Q. Dawson | Olivia Flaversham | Toby | Hiram Flaversham | Oliver | Dodger | Tito | Rita | Francis | Einstein | Fagin | Jenny Foxworth | Georgette | Ariel | Eric | Sebastian | Flounder | Scuttle | King Triton | King Triton's Daughters (Attina, Alana, Adella, Aquata, Arista, & Andrina) | Max | Cody | Jake | Marahute | Belle | Beast | Lumière | Cogsworth | Mrs. Potts | Chip Potts | Fifi | Maurice | Aladdin | Jasmine | Genie | Magic Carpet | Abu | Rajah | Iago | Razoul | The Sultan | Simba | Mufasa | Nala | Timon | Pumbaa | Rafiki | Zazu | Sarabi | Sarafina | Pocahontas | John Smith | Meeko | Flit | Percy | Thomas | Nakoma | Chief Powhatan | Quasimodo | Esmeralda | Captain Phoebus | Victor, Hugo, & Laverne | Djali | Clopin | Hercules | Megara | Pegasus | Philoctetes | Zeus | Hera | Hermes | Olympian Gods (Poseidon, Aphrodite, Apollo) | Muses | Fa Mulan | Mushu | Li Shang | Cri-Kee | Grandmother Fa | Yao, Ling and Chien Po | Khan | Ancestors | The Emperor of China | Tarzan | Jane Porter | Terk | Tantor | Kala | Archimedes Q. Porter | Kerchak | Baboons | Whales | Tin Soldier | Ballerina | Yo Yo Flamingo | Spring Sprite | Aladar | Plio | Zini | Yar | Suri | Neera | Eema | Baylene | Url | Bruton | Kuzco | Pacha | Kronk | Milo James Thatch | Kida | Dr. Joshua Sweet | Vincenzo Santorini | Gaetan Moliére | Lilo Pelekai | Nani Pelekai | Stitch | Jumba Jookiba | Gantu | Pleakley | Jim Hawkins | John Silver | Dr. Doppler | Captain Amelia | Morph | B.E.N. | Kenai | Denahi | Sitka | Koda | Rutt and Tuke | Maggie | Grace | Mrs. Calloway | Buck | Lucky Jack | Chicken Little | Abby Mallard | Runt of the Litter | Fish Out of Water | Buck Cluck | Lewis | Wilbur Robinson | Franny Robinson | Lefty | Bolt | Mittens | Rhino | Penny | Tiana | Prince Naveen | Louis the Alligator | Ray the Firefly | Eli "Big Daddy" La Bouff | Mama Odie | Rapunzel | Flynn Rider | Pascal | Maximus | Wreck-It Ralph | Vanellope von Schweetz | Fix-It Felix, Jr. | Sergeant Calhoun | Queen Anna | Queen Elsa | Kristoff | Olaf | Sven | Hiro Hamada | Baymax | Honey Lemon | GoGo Tomago | Wasabi | Fred | Tadashi Hamada | Cass Hamada | Alistair Krei | Judy Hopps | Nick Wilde | Chief Bogo | Mr. Big | Moana Waialiki | Maui | Grandma Tala | Chief Tui | Ocean | Heihei | Te Fiti | Yesss | Shank | J.P. Spamley | Lieutenant Mattias | Yelana | Honeymaren | Ryder Nattura | Bruni
Live-Action Movies
Marnie Piper | Aggie Cromwell | Gwen Piper | Dylan Piper | Sophie Piper | Long John Silver | Perri | Travis Coates | Old Yeller | Nikki | Neewa | Big Red | Herbie | Chico | Goodtime Charlie | Dexter Reilly | Wahb | Moki | Miss Eglantine Price | Theodore and Amos | Pete | Zunar-J-5/9 Doric-4-7 | Frank Wilson | Popeye | Olive Oyl | Kevin Flynn | Alan Bradley | Jack Pumpkinhead | Billina | Tik-Tok | The Gump | Wolf | Benji | Cougar cubs | Mother Cougar | Jim Craig | Roger Rabbit | Eddie Valiant | Jessica Rabbit | Benny the Cab | Ted Johnson | Susan Johnson | Morogo | Duma | White Fang | Jack Conroy | Henry Casey | Buck | Cliff Secord | Jenny Blake | Gordon Bombay | Wayne Szalinski | Max Dennison | Dani Dennison | Allison | Thackery Binx | Tom Sawyer | Huckleberry Finn | Aramis | Athos | D'Artagnan | Porthos | George Knox | Scott Calvin | Charlie Calvin | Shadow | Chance | Sassy | James Henry Trotter | Mr. Centipede | Mr. Grasshopper | Earthworm | Mrs. Ladybug | Miss Spider | Glowworm | George of the Jungle | Ursula Stanhope | Ape | Phillip Brainard | Sara Jean Reynolds | Mr. Magoo | Nick Parker | Annie James | Nick Parker | Elizabeth James | Mighty Joe Young | Jill Young | Gregg O'Hara | Martin | Inspector Gadget | Penny Gadget | Brain | Dr. Brenda Bradford | Max Keeble | Megan | Robe | Carol Newman-Calvin | Stanley Yelnats IV | Zero (Holes) | Captain Jack Sparrow | Joshamee Gibbs | Will Turner | Elizabeth Swann | Hector Barbossa | James Norrington | Jim Evers | Sara Evers | Madame Leota | Emma | Anna Coleman | Phileas Fogg | Inspector Fix | Ben Gates | Riley Poole | Abigail Chase | Shane Wolfe | Zoe Plummer | Lulu Plummer | Will Stronghold | Layla Williams | Warren Peace | Zach | Ethan | Magenta | Ron Wilson | The Commander | Jetstream | Freeze Girl | Principal Powers | Coach Boomer | Jonathan Boy | Peter Pevensie | Susan Pevensie | Edmund Pevensie | Lucy Pevensie | Aslan | Mr. Beaver | Dave Douglas | Jess Aarons | Leslie Burke | Giselle | Robert Philip | Prince Edward | Pip | Nathaniel | Underdog | Sweet Polly Purebred | Skeeter Bronson | Darwin | Blaster | Hurley | Mooch | Alice Kingsleigh | Mad Hatter | White Queen | Bandersnatch | Prince Dastan | Princess Tamina | Sheik Amar | Dave Stutler | Balthazar Blake | Balthazar's Eagle | Kevin Flynn | Sam Flynn | John Carter | Troy Bolton | Sharpay Evans | Ryan Evans | Gabriella Montez | Chad Danforth | Taylor McKessie | The Lone Ranger | Tonto | Oscar Diggs | Glinda the Good Witch of the South | China Girl | Maleficent (2014) | Diaval | Aurora (2014) | Prince Phillip (2014) | Knotgrass, Flittle and Thistlewit | The Baker | Cinderella | Rapunzel | Little Red Riding Hood | Cinderella (2015) | Prince Charming (2015) | Anastasia Tremaine (2015) | Mice (2015) | Fairy Godmother (2015) | Jaq and Gus (2015) | Casey Newton | Frank Walker | Athena | Mowgli (2016) | Bagheera (2016) | Baloo (2016) | Raksha (2016) | The BFG | Sophie | Belle (2017) | Beast (2017) | Maurice (2017) | Lumière (2017) | Cogsworth (2017) | Mrs. Potts (2017) | Chip Potts (2017) | Christopher Robin (2018) | Winnie the Pooh (2018) | Madeline Robin | Evelyn Robin | Eeyore (2018) | Tigger (2018) | Piglet (2018) | Giles Winslow Sr. | Clara Stahlbaum | Phillip Hoffman | Mother Ginger | Mouse King | Dumbo (2019) | Holt Farrier | Milly and Joe Farrier | Max Medici | Colette Marchant | Aladdin (2019) | Jasmine (2019) | Genie (2019) | Magic Carpet (2019) | Abu (2019) | Rajah (2019) | Dalia | The Sultan (2019) | Simba (2019) | Mufasa (2019) | Nala (2019) | Timon (2019) | Pumbaa (2019) | Rafiki (2019) | Zazu (2019) | Sarabi (2019) | Sarafina (2019) | Conall | Borra | King John | Lady (2019) | Tramp (2019) | Jock (2019) | Trusty (2019) | Hua Mulan
Other Animated Movies
Br'er Rabbit | Toaster | Blanky | Kirby | Lampy | Radio | Jack Skellington | Sally | Zero | Mayor of Halloween Town | Santa Claus | Valiant | Samson | Benny the Squirrel | Bridget the Giraffe | Nigel | Larry the Anaconda | Ryan | Blag | Silvermist | Rosetta | Fawn | Iridessa | Bobby and Clank | Terence | Ebenezer Scrooge | Milo | Gribble | Ki | Milo's Mother | Victor Frankenstein | Sparky | Elsa Van Helsing | Dusty Crophopper | Dottie | Skipper Riley | Sparky | El Chupacabra | Vidia | Zarina | Marianne | Dawn | Sunny | Bog King
Sequels
Ethan Dalloway | Cassim | Angelique | Fife | John Rolfe | Uttamatomakkin | Kiara | Kovu | Vitani | Ratso | Melody | Tip and Dash | Sylvia Marpole | Scamp | Angel | Baker | Madellaine | Zephyr | Prudence | Jane | Ranjan | Sparky | Reuben | Thunderbolt | Lars | Ting-Ting, Su, and Mei | Zugor | Cash | Atka | Dixie | Granny Rose | Waylon and Floyd | Queen Athena | Blade Ranger | Maru | Windlifter
Shorts, TV Shows, Comics and Video Games
Pete | Oswald the Lucky Rabbit | Mickey Mouse | Minnie Mouse | Horace Horsecollar | Pluto | Goofy | Donald Duck | Daisy Duck | Ludwig Von Drake | Scrooge McDuck | Huey, Dewey, and Louie | Mortimer Mouse | Chip and Dale | Max Goof | Gladstone Gander | Fethry Duck | Gyro Gearloose | Launchpad McQuack | Webby Vanderquack | Bentina Beakley | April, May and June | Darkwing Duck | Gosalyn Mallard | Monker Muddlefoot | Mona | Morgana Macawber | Pistol Pete | Peg Pete | P.J. | Kit Cloudkicker | Rebecca Cunningham | Chiro | Jinmay | Cassandra | Lance Strongbow | Adira | Varian | Gabriella | Spot the Killer Whale | Urchin | Sora | Kairi | Riku | Aqua | Terra (Lingering Will) | Ventus | Organization XIII | (Axel | Xion | Roxas | Vexen) | Lea | Ienzo | Lauriam | Elrena | Strelitzia | Naminé | Riku Replica | Ansem the Wise | Master Eraqus | Spirit Dream Eaters | Data-Naminé | Data-Riku | Data-Roxas | Data-Sora
Community content is available under
CC-BY-SA
unless otherwise noted.