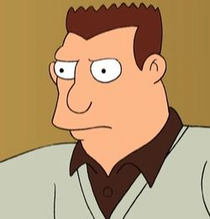 Yancy Fry, Sr. is the supporting character of Futurama. He is the father of Yancy Fry and Philip J. Fry, and husband of Mrs. Fry, as well as Philip's illegitimate son due to a time-travelling mishap.
He was a military man and a veteran of the Vietnam War. He was slightly paranoid about "Commies" and "Y2K".
Personality
Yancy Fry Sr. actually did care a lot about his son, as shown in the episode "Cold Warriors." Yancy Jr. and Phillip went ice fishing in the 1980s, when Fry was a young teenager. When Fry fell through ice, his father saved him. Yancy Fry Sr. would often invoke dramatic irony, telling his cold son to "bundle up" as he did not want him to freeze. Yancy Fry Sr. was a soldier and fought in the Vietnam war. He did this in style by wearing a camouflage tuxedo which his son Yancy Jr. wore at his wedding.