Yonggary
In this incarnation, Yonggary is a 200-million-year-old giant dinosaur, approximately fifty times the size of a tyrannosaurus rex, that is reanimated by Galaxion alien set upon taking over the Earth. Upon reanimation, the aliens use Yonggary to attack several cities and cause destruction. When the military find a way to break Yonggary from the aliens' control over him, the aliens send their personal monster, Cykor, to battle Yonggary. Yonggary eventually defeats Cykor and the aliens retreat. The next day, the military transports Yonggary to an island where he may adjust to the modern age.
== Video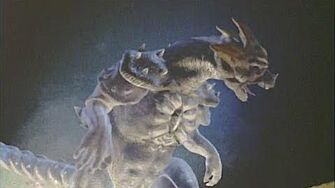 ==
Community content is available under
CC-BY-SA
unless otherwise noted.