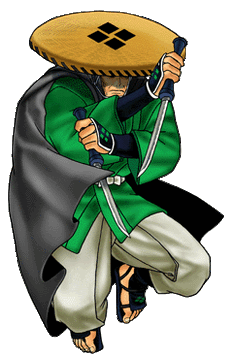 Zantetsu is one of the heroes from The Last Blade series.
History
Due to the decline of the ninja population, ordinary people in Japan began to think that the title of "Ninja" is something that deserves to be laughed at. In order to prove the superiority of his people, he challenged the soldiers again and again to prove his strength. When he heard an open door called "Hell's Gate", he began to defeat the enemy inside to prove his power.
At the beginning of The Last Blade 2, Zantetsu lived in his village and taught his grandson in a ninja way to continue their legacy. However, he knew that he would die in the near future and hoped to prove his strength again before he finally died. He went to "The Gate of Hell" again to experience a great battle.
Obviously, he is the ancestor of Eiji Kisaragi. He and Eiji have similar moves.
Personality
Zantetsu is a wise elder to his clan, strong in traditional values and only ailing from old age. He is considered by the other members of his clan to be a "fossil" as he refuses adapt to the more Western ideas of peace. He treasures his personal family, hoping that they will continue his legacy with pride.
Heroes
Community content is available under
CC-BY-SA
unless otherwise noted.