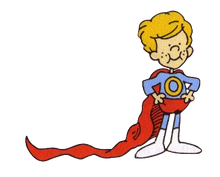 Zero is the name of the main character in the Schoolhouse Rock! video My Hero Zero. He is a young boy who attempts to teach what is presumed to be his older sister (and the viewers) the importantance of the number zero (0).
Role
Zero's video demonstrates how the number zero (0) can play a big role in multiplication, showing how it can make a small number (such as 1) to grow larger in size.
The video starts out with two children, one being Zero and the other possible being his older sister looking at a huge monument of the number zero. The girl then questions the number, stating what's so important about it while an unseen narrator then asks what makes a real hero. Soon afterwards, the narrator begins to sing as Zero transforms into a super hero. Zero goes on to demonstrate his power by adding zeros at the end of numbers to virtually increase their quantity by 10 for each zero he adds.
In the end of the video, the girl finally understands the importantance of Zero, and begins to respect it as though it was a hero.
Community content is available under
CC-BY-SA
unless otherwise noted.